Have fun, sing along!
Become the Hero of an Epic adventure of powerful Celtic World music. Sing, dance, smile with Kilted Kings new album. "Name On My Soul" is like a fun fusion of Celtic Thunder and Neil Diamond with some of Marc Gunn's best songwriting yet!

Buy Kilted King Shirt and Download the Debut Album
The Celtfather Story Is Your Story!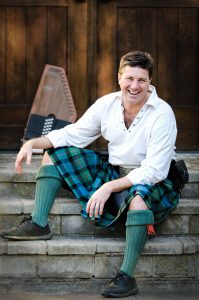 Marc Gunn sings fun songs for Celtic Geeks like you.
You probably attend Renaissance festivals and science fiction conventions. You may own a cat or a dragon. You love Celtic music from traditional Irish tunes to Celtic rock. You can't wait to hear the funny songs of your favorite singer. You may even love "Weird Al" or other comedy musicians.
Needless to say, Marc Gunn is not your typical Celtic musician. For starters, he plays an autoharp, and still wins Celtic music awards. He gives you a high-energy show that makes you want to sing with an Irish brogue and dance a jig. Both are highly encouraged. But it's the songs that make a difference. It's Celtic, and yet it's nerd music inspired by fandom (filk)!
If you're a Celt or love Celtic music, and you also are a geek, then you will love being a part of the Gunn Runners community. Welcome!
If you like kilts, Celtic music, and you also are a geek, the welcome to the Gunn Runners community! Marc Gunn fuses his love of fandom with his Celtic heritage. Sing along to songs about Firefly, hobbits, dragons, cats, Star Wars, Star Trek and of course traditional Irish and Scottish songs.
Listen, adventure, and download free music!
#Celtfather
If you mention me online, do me a favor. Tag me with this hashtag. That way I can find your comment easily.
Subscribe to Marc's Musings for my updates on what's new with my music. But you can also subscribe to The Celtfather podcast and my YouTube channel for more updates.
Here's my latest single: