Podcast: Play in new window | Download
With St. Patrick's Day just around the corner and a show tomorrow, this is a good time to compile a list of funny Irish drinking songs that perhaps I might play this year. See my complete show schedule here. I also do a lot of shows online.
St. Patrick's Day Internet Music Festival
I'm working on a whole new lineup for this year's St. Patrick's Day Internet Music Festival. It all starts March 1st through 17th on YouTube. It's gonna be a rockin' good time.
As usual, I will kick off the event by introducing bands performing at the festival. Then I will play some fun St. Patrick's Day songs and funny Irish drinking songs.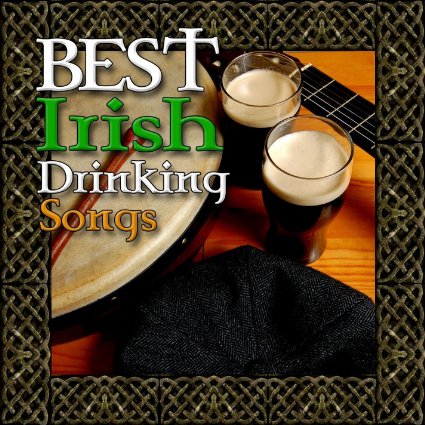 Funny Irish Drinking Songs
Here's a few funny drinking songs from my albums.
Johnny Jump Up
This perhaps my all-time favorite funny Irish drinking song. It tells what happens when you drink too much hard cider.
Wild Rover
Probably the most-popular Irish drinking song ever. It tells the story of a man who goes roving and realizes the folly of his ways.
The Mermaid Song
This old sea shanty warns you against mermaids. At some Renaissance festivals, the verses can go on  and on with how people avoid drowning.
The Sick Note
I first found this song under the name "The Barrel Song". It's based on an old folk story that was set to music by Pat Cooksey.

Irish Lilting
Lilting was a big part of the Irish vocal tradition. I'm starting to explore that musical style a lot with this fun children's song. It's hilarious at pubs too!
Isn't It Grand, Boys?
The Clancy Brothers made this song famous. It captures a bit of that great Irish satire and celebration of death as found in Irish wakes.
Don't Go Drinking With Hobbits
Okay, not really an IRISH drinking song, but I'm pleased to see that my hobbit drinking song has made a few list of funny Irish drinking songs by other blogs on the web.
Everybody Needs a Drinking Song
This is a newer hobbit drinking song that is a great sing-along at Irish pubs.
Finnegan's Wake
This is one of those classic funny Irish drinking songs that is played by nearly ever Irish pub band worth their grain of salt. Many are Celtic rock bands. It's just plain fun!
Big Strong Man (My Bruddah Sylvest)
I first found this song on an album of Irish Drinking Songs. It turns out that it was written at the beginning of the 20th century for some sort of vaudeville musical. Somehow, it snuck it's way into the Irish music scene.
Lord of the Pounce
Here's another funny parody of the song "Lord of the Dance", all about cats. This song has turned more than one Celtic Thunder fan into a fan of Celtic music.
Drunken Sailor
An old sea shanty that shows that sailors have a GREAT sense of humor.
Kilted For Her Pleasure
I started wearing a kilt for my shows in 1999. I've run into a lot of people who wonder why I wear it. This song attempts to explain.
Monahan's Mudder's Milk
Once again, this is not so much Irish as a funny drinking song based in the Firefly verse of Joss Whedon's TV show. It led to an entire album of Firefly Drinking Songs.
The Widow and the Devil
This is a great sing-along by Mick Ryan, hilarious song about the devil trying to bring a widow to hell by offering her heart's desire.
Beer, Beer, Beer
This is easily my second favorite funny Irish drinking song. It tells the origins of beer by a man named Charlie Mopps. Oddly enough, it's an old English music hall song that is now dominated by Irish pub singers.
Close Your Eyes (Demon Lullaby)
No. It's not a drinking song, but it's funny as can be! One of my most-popular songs (written by Daniel Glasser)
St Patrick Never Drank
St. Patrick was a monk. Did he actually drink? Well, the answer for medieval Ireland is probably, yes, but Spaff wrote a nice satirical song that might convince you otherwise.
I hope you enjoyed these fun and funny Irish drinking songs. You can find a lot more through my album St Patrick's Day Songs for Kids and many more of CDs. But I also know there are a LOT more out there.
What are YOUR favorite funny Irish drinking songs?