Do you love Celtic music and culture, science fiction and fantasy, or cats?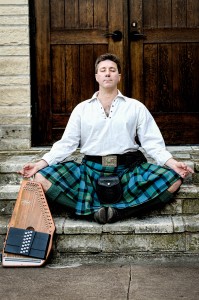 My name is Marc Gunn, and I play Nerd Pub Songs. You'll hear traditional Irish and Scottish songs that I combine with songs about Star Wars, Star Trek, Firefly, Lord of the Rings, Doctor Who, and more. There's a little bit of comedy, and a lot of bit of love for these fandoms.
I've released over 20 solo albums since 2004 and have sold over 20,000 albums as an indie musician. If you share a love of science fiction conventions, Renaissance festivals, fantasy, comedy, dragons, and cats, then you will love my music.
I want you to have 5 free Celtic Geek MP3s right now. Just sign up here. You'll get a link to download these MP3s. After you listen and enjoy those songs, I will send the rest of my Celtic Geek album. It features 21 MP3s from my first 20 albums. And it's all for free! No strings attached.
Well wait, I do play the Autoharp, does that count?
I got my start with the Original Celtic Renaissance duo, the Brobdingnagian Bards. We changed the face of Renaissance festival music online by releasing free MP3s. When I went solo, I continued the tradition. But I also added a huge series of podcasts to the mix. You can hear my music all around the net. But the best place to start listening to free samples is right here.
Once a year, I take fans with me to various locations around the world with my Celtic Invasion Vacations. We usually end up in one of the Celtic countries like Ireland or Scotland, but each trip varies. My goal is for us to get to know a region, up close and personal. For that reason, we usually have very small groups (8-14 people).
#Celtfather
Tag me with this hashtag so I can find your comment.
Why Yes, I Am a Songwriter!
In fact, that's one of the reasons I even started playing music. I wanted to write songs like Elvis Presley (it was only later I realized he didn't write any songs). I can't claim any huge awards or awesome features in movies or TV… yet, but my music is regularly featured on a ton of geek podcasts. You can find a list of the songs I've written in my online songbook.
Some of my favorite topics to write songs about include: Firefly, Hobbits, Star Wars, Star Trek, and yes, cats. My style is based on Irish drinking songs and sing-alongs as well as great rhythms. I call my autoharp musical style rhythm and folk. There's a bit of blues and jazz. During my live shows, I offer lots of fun interaction with my audience. It's kinda awesome. You should watch me perform some time. If you don't live near me, check out one of my internet concerts.
Oh! And I'm called The Celtfather for a reason. Not only am I the largest promoters of indie Celtic music online, but I'm also a father of two. 🙂
Want to Know More?
Join my mailing list(s). Subscribe to Marc's Musings for my  update on what's new with my music. But you can also subscribe to The Celtfather podcast for more frequent updates. Oh! And I have a street team too. Just click the link to find out about all three.
Contact Marc Gunn. Find all of my contact information.
Quick Start to Marc Gunn and My Websites
Some FAQ about Marc Gunn
Instrument: Oscar Schmidt 21-chord Chromatic Autoharp, Vocals
Current Bands: Marc Gunn, The Dubliners Tabby Cats, Gunns & Drums, Kilted Kings
Former Bands: Skander, Breastfed, Ichabod,  Brobdingnagian Bards
Musical Pseudonyms: 4 Irish Whiskey, Paddyfingers Celtic Songs, Irish Stout, "Captain Black Jack" Murphy, Marc Gunn & The Dubliners' Tabby Cats
Favorite Musicians:
Elvis Presley, Fabrizio de Andre, Jars of Clay, David Garza, Bryan Bowers, Enya, The Dubliners, Sinead O'Connor, U2, Clannad, Altan, Great Big Sea, Lunasa, Pete Seeger, Tom Paxton, Mozart, Beethovan, Al Grierson, Roger Miller, Rogers & Hammerstein, Bill Joel, Paul Simon, Wierd Al Yankovic, Clandestine, Ed Miller, Bing Crosby, Barenaked Ladies, They Might Be Giants, Jackopierce, Angelo Branduardi, The Beatles, Bjork, Cat Stevens, Johnny Cash, Leonard Cohen, Radiohead, Stone Temple Pilots, The Wolfe Tones, more influences
Similar Artists:
Brobdingnagian Bards, Andy M. Stewart, Ed Miller, Black 47, The Dubliners, Clannad, Enya, Bryan Bowers, Irish Rovers, Loreena McKennit, The Corries, Joni Mitchell, Elvis Presley, Altan, Martin Carthy, Dolores Keane & John Faulkner, Jean Redpath, Roger McGuinn, The Clancy Brothers, Ewan MacColl, Kingston Trio, Christy Moore, Dick Gaughan, Fairport Convention, Dervish, Phil Coulter, The Fureys, Steeleye Span
Fans also listen to
Gaelic Storm, Celtic Thunder, Flogging Molly, Gorillaz, Albannach, Johnny Cash
Celtic Music Radio
Find more Celtic radio stations and podcasts from the Celtic Music Magazine.
If you live in North Alabama, subscribe also to the North Alabama Celtic Music Calendar.