I have performed with numerous bands and had a number of side projects over the years. This is the main list. You can find out more about all of these projects by clicking the links in the descriptions.
Kilted Kings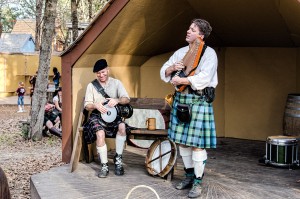 Become the Hero of an Epic adventure of powerful Celtic World music. Sing. Dance. Smile. Because we wear kilts, and You are royalty!
Kilted Kings are Marc Gunn on autoharp and vocals and Randy Wothke on percussion and background vocals.
Visit KiltedKings.com for to find out about our album Name On My Soul.
Brobdingnagian Bards
Scottish and Irish folk songs combined with the Lord of the Rings music and a wee bit o'Celtic fun. The Brobdingnagian Bards (pronounced brob-din-nahg-EE-en) are The Original Celtic Renaissance music duo. It's great Celtic music from Austin, Texas. Their unique brand of folk music on the autoharp, recorder, and mandolin made them one of the most-popular Celtic groups online.
The Brobdingnagian Bards have 10 studio albums that are available in physical or digital form. Visit thebards.net to become a Nagian.
Firefly Drinking Songs with Bedlam Bards & Marc Gunn
This is not so much a band as a side project. Bedlam Bards were one of the first bands I met when I started performing at Renaissance festivals back in 1999. We've followed a similar journey. In fact, we found and fell in love with Firefly about the same time. We both wrote songs about the short-lived show. It inspired us to release an album together of Firefly drinking songs, inspired by Firefly and Serenity. The album was recorded live at science fiction conventions and shindigs–the perfect sound for hoisting a mug of mudder's milk!
Join the Bedlam Bards and Marc Gunn at romp around the Verse. A must for all Joss Whedon fans. I perform Firefly Drinking Songs shows at science fiction conventions.
4 Irish Whiskey (2008)
Who is this 4 Irish Whiskey band? Well, it's not a band at all. The album was recorded live in Lisdoonvarna, Ireland at a pub during the first Brobdingnagian Bards Tour of Ireland. I was out drinking with fans and friends and asked to play. I recorded the entire evening, about three hours of music. However, this was the only music that was worth keeping. This was a limited-edition album with only 100 copies being printed. You can find out more about it on CD Baby.
Captain Black Jack Murphy, Pirate Extraordinaire (2008)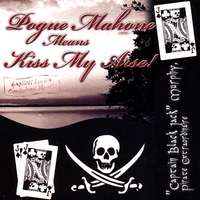 Raucous side of Celtic music. Pub songs with a pirate intentions. Land lubbers can feck off.
I met Captain Black Jack Murphy years ago. He had sworn off piracy and seemed like a decent fellow when he asked me to help him record an album of sea shanties. We spent the next few months doing just that.
When the album was completed, he disappeared before popping up on a college speaking tour on the virtues of piracy. The masters were stolen and he released the album. He seemed like a nice chap… but alas. Find out more about him on his website.
He's also the reason I was forced to release an album about air pirates hunting dragons called Pirates vs. Dragons. It's due out in July 2016.
Irish Stout (2007)
This is again not so much a side project as a test project. Back in 2006 and 2007, I was testing keywords and digital music sales. I recorded some tracks using my Irish accent and released the album with a limited run online. Find out more about it on CD Baby.
The tracks eventually ended up on my solo CD Going for Brogue.
Rimbosity by Rimbo (2005)
My friend Rimbo was also an old bandmate for Skander. He asked to sing on one of his songs and also asked if he could remix a couple of my a capella songs for some tracks he was working on. You can see which songs below.
Tracks: The Scotsman Unbound (w/Brobdingnagian Bards), Jeremiah (Joy to the World) (w/Marc Gunn), The Undead Army at Anduin, k-rad 31337 demo muzak, Lissenup!, Rest for the Wicked, Zen Fury, My Love is Like the Red, Red Rose (w/Marc Gunn), The Dream, Hyperactive, I am in considerable pain., The Fixer's Revolt, Sunset Wanderer, What is Narf?, Waking
Celtic Love & War (2002)
I was making a big splash on MP3.com in 2001. So I made my first home recordings using a TASCAM 4-Track so that I could release some more music on their site. Many of these songs served as test recordings for Songs of Ireland and Soul of a Harper. Sadly, I'm not sure I even have copies of these songs any more…
Tracks: Buttercup's Lament, The Bridge, The Leprechaun, Patriot Game, Lanigan's Ball, Peggy Gordon, Mauve on a Midsummer's Eve, Black and Tan, Froggy Went-A-Courtin', Happy Birthday From Ireland, Spancil Hill

Mountain Rain (2001)
This is the first solo album I released on MP3.com. Before the Brobdingnagian Bards were formed, I combined my love of original and traditional American Folk music with my love of Celtic songs. This became "Mountain Rain". It features some of his finest, early, original Celtic and Folk songs. The album is Out-of-Print. Find out more about Mountain Rain.
Tracks: Buttercup's Lament, Bella's Highland Jig, Cross the White Line, Froggy Went A-Courtin, Liquid Sunshine, Pugnano (Tuscany), Three Words, Monster in My Mirror (The Ernie Song), The Leprechaun (You're No Irish Laddie!), Happy Birthday From Ireland, Lanigan's Ball
October Sessions (1998)
In 1998, I quit my job to become a full-time musician. Six months later, before I had to get a new job, I recorded this short album to continue my career. This 4-song EP featuring all original autoharp songs, including, "Cross the White Line", "Three Words", and the first recording I made of "Liquid Sunshine" before it was added to Marked By Great Size. Out-of-Print.
Find out more about October Sessions.
Ichabod Zeuss (1998)
This solo album, Geography, began as a demo and ended up as a full-length album. At the time, I went under the stage name of Ichabod which was reincarnated from my Skander days. The album features the two recordings with Andrew McKee before we became the Brobdingnagian Bards. One of the songs, "Bella's Highland Jig", was re-recorded for Marked By Great Size.
Find out more about Ichabod Zeuss.
Breastfed (1997)
My last foray into rock music was Breastfed, an Avant, Quark Rock band characterized by well-arranged songs using odd timings, grooving rhythms, hard-edged attacks and fearsome melodic vocals. I found Peg, a bassist, through Austin Chronicle wanted ads. She was playing drums for a band named 10″ Maria, but she was writing bass runs that I loved. We started writing songs while we searched for a guitarist and drummer. Neil was a brilliant drummer and percussionist who saw we were serious about making it. When our first guitarist dropped out, we picked up Tavis who was working hard to be a serious songwriter. Together, we booked gigs and recorded a four-song demo on cassette. Find out more about Breastfed.
Skander (1995)
I remember going to Emo's with my friend Johannes. We watched these punk bands play their three-chord songs and say, "I can do that". So we did. We got a fantastic drummer and started a band called Skander. We recorded a three-song demo called Intent On World Domination to promote the music. Find out more about Skander.