Podcast: Play in new window | Download
Cedric is the fiddler and one of the singers of Bedlam Bards, a comedic Celtic group from Austin, Texas that was one of my biggest influences when learning how to put on a show. This weekend, I sat down with Cedric to get a in depth interview about how he escaped Lubbock to join the SCA, form a Celtic band, and  hypnotize his audiences with charm and wit.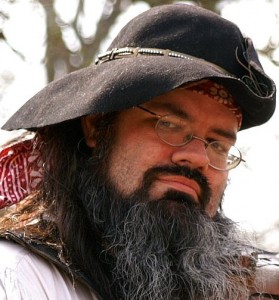 He moved around a lot as a kid, started fiddling as a young'un, and in college got involved with the SCA (Society for Creative Anachronism, Inc.), which launched him into the world of being a Bard. After beginning work with Renaissance Festivals, filking songs for Firefly brought another dimension to the poetry and stories he'd been writing and telling previously.
Learning to put on a great show was gleaned from years of playing music and through participation in the SCA – and it turns out that teaching in college was a huge asset as well. When the Bedlam Bards were formed, they found their feet after some trial and error, and became a band of competing front-men, keeping the action and energy high ever since.
Successes as Performers: Staying together for as long as they have!
Challenges as Performers: Bawdy Shows are sometimes hard sells for Festival Leadership,
Working with Faire Management can be complex,
Amplification of Performers – it's a new thing, and seems less authentic.
—
If you enjoy this episode, then please post a review on iTunes or your favorite podcatcher. Subscribe to the show at www.celtfather.com where you can join my mailing list to download a free album of my Celtic and comedy music. Special thanks to my Patrons. You can support my craft for as little as $1 per month. Become a Patron at www.marcgunn.com/patron
Post feedback in the shownotes, use the hashtag #celtfather on social media, or email me marc@marcgunn.com