I'd like to introduce Ms.Inara Claire Gunn!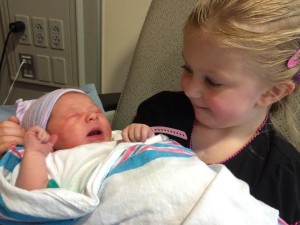 Born at 7:08pm on May 18, 2015, weighing 7lb 11oz, and 20.5in, she's as cute as can be! Compared to last time (we had a baby), this was a much better experience! Being around for labor during the day worked a lot better for everyone involved. She'll be coming home tomorrow night – as you can see, Kenzie is already enamored with her new baby sister.
I've started writing a Hobbit Children's song. Depending on how development goes, it might be performed on Sunday at the Concert Window Concert – make sure to check it out!
To subscribe, go to iTunes, or go to Celtfather.com where you can also join my mailing list. This show is sponsored by my Patrons at marcgunn.net. Your generous monthly donation feeds a human family of three and half plus three cats. Post feedback in the shownotes, use the hashtag #celtfather on social media, or email me marc@marcgunn.com
 Mentioned This Week on The Celtfather #27