There were sooo many great musicians who recorded on Don't Go Drinking With Hobbits. I emailed these folks and asked them a few questions.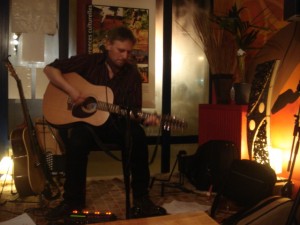 Who are you and what do you do?
My name is Laurent Leemans, aged 40, 3 lovely daughters (the only thing I love more than making music), librarian because music is the food of the soul, but the stomach can be very persuasive. I inherited the love of music from my dad, though we hated almost everything the other enjoyed…
How did you find me and my music?
I came across the Brobdingnagian Bards sometime in the late nineties, on MP3.com, while browsing through Celtic stuff. I immediately enjoyed the uplifting tunes, the humour and the lightfooted general approach to music but also the keen song & lyrics writing. You're not the only one who tries to put some laugh into Celtic music, but IMHO, it too often ends up in grotesque pastiche, not funny. And the songs are barely more than hastily done sketches. As for those who try to use the Arthurian/LOTR/epic imagery, it's generally what I call Playmobil knights & ladies of the lake who are funnier than those who want to be funny… You are none of this. You write catchy songs, with brilliant and witty lyrics.
What did you record on Don't Go Drinking With Hobbits?
I did backing vocals and a little rhythmic guitar on "Let's Get Drunk Tonite"
What did you think of the experience?
It was a pleasure and a privilege, but it was weird doing it without actually talking to you face to face. We'll set this straight during the next Celtic Invasion if I manage to book you a gig or two in Belgium. I think I have a lot to learn from your professional AND humane approach to the business.
Have you collaborated with other musicians before?
I've been in two bands: La Vierge du chancelier Rolin, an arty-new wave band from 1992 tp 1998. We had enormous musical potential, but we had shit in our heads. We composed very good music, but all the rest we did the wrong way (swollen necks, arrogance, disregarding all that was not strictly musical, thinking we did the world a favour…). So the end was bitter and I'm the only one who is still active in music with decent success today. Weird enough since I thought I was the least gifted of the 6 members.
Then there came Ceilí Moss: I knew Benjamin and Yannick from my student days When LVDCR was in a bit of a low (a temporary one, or so I thought at the time) and they invited me to jam and play the drunken Danny rover of the County Down in the jar with them, I thought it would be a nice interlude. The interlude lasted (still does) while my "great white hope" deflated like the balloon it actually was.
I've done some occasional jams with friends, some duets with fellow singers (I dearly remember a "I wanna be your dog" with my pals from Manta Ray in 1996, a "Black Is the Colour" with the Dutch singer Loes Van Schaijk at a festival in 2006, and I take the occasion to thank Jessica Kilroy and Kier Atherton for inviting me when they last were in Belgium last june) at occasions, but nothing formal or on a regular basis.
What's your latest album called and what is it about?
With Ceilí Moss, we released an album (the fourth) about a year ago. We are extremely proud of it, really. It came after a hectic period as the fiddler, keyboard player, accordionist and female singer left the ship. We managed to find new people and I think the band is now stronger than it's ever been, both musically and as a bunch. I did one solo record in 2009, but I mention it only to be exhaustive, it was a flop and rightly so.
Do you have a new album coming? Tell me about it.
I'm working on my first decent solo record on my Tascam. I have no idea when I'll be able to release it, as I record when the dayjob, wife, kids, Ceilí Moss, laundry, lawnmowing, cat and dishes allow me… It will be something quite introspective, even austere, influenced by the likes of Michael Gira, Wovenhand, Brendan Perry or Johnny Cash's American Recordings series.
Where can people find you on and offline?
You can find me solo at www.theimaginarysuitcase.be and with my band Ceilí Moss at www.ceilimoss.be. There's also a facebook, myspace and the rest but you'll find the links on the two official sites. Offline, I'm a terribly shy, reclusive and secretive guy leading an incredibly normal and boring life. I'm at home with the wife and kids, and when the phone rings, I believe it will bite me if I touch it.
Is there anything else you'd like to share?
There are some bands and musicians I think are worth discovering: Jen Gloeckner, Jessica Kilroy, Pterodactyl Plains, my friends from Carabett, Captives On The Carrousel, Marieke Lightband, Folgazán, … I could also share my two pennies of wisdom. To cut it short, I try not to believe what I'm told, rather to understand why I'm requested to believe it.
Would you be interested in collaborating with me in the future?
When you play in Brussels, I'd love to sing "the old dun cow" with you. 😉
That sounds totally awesome.  I can't wait to join you there Laurent!  Thanks again for helping me out on the album!
Oh! Don't forget to check out and buy his CDs!