We did it!  Wait, what am I saying!  I didn't do anything…
YOU did it! You helped my next CD Not Every Day Is St. Patrick's Day. I guess love of traditional Irish songs ain't dead afterall.
I want to thank the 68 people who donated just over $4000 to help make this album happen. Thank you, thank you, thank you! You are amazing!
I can't tell you how much this means to me. I love writing original music. After all, that is why I started playing music in the first place. However, I am also committed to the promotion and preservation of Celtic culture and especially music. That's why I keep publishing the Irish & Celtic Music Podcast.  It's why I keep sharing my love. It's also why I released the Irish Song Lyrics website.
I share songs. I share lyrics. I share chords. The musicians who find it share the music with others. It's one of those great services that the web offers–traditional Irish songs at your fingertips. It's a beautiful thing. While I decided to record this album for many, many reasons, that is the #1 goal I've had from the start. I just want to share these songs. YOU have made it possible.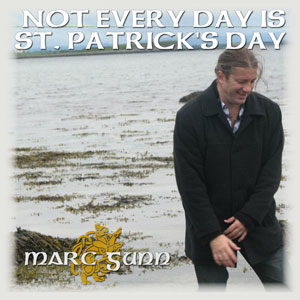 What Happens Next?
Now that the album is funded, I need to finish it. All my parts are recorded. Daniel Briggs is recording additional instrumentation. He's sending me 2-3 tracks per week. So the music should be done by mid-September at the latest (knock on wood). In the meantime, I create final mixes for the ten or so songs that are fully recorded.
I hope to have the pre-order albums out by the end of October (again, knock on wood).
The official release date for this CD is January17th, two months before St. Patrick's Day.
Chartbombing in January
For everyone who is waiting for the digital album, mark your calendars for January 17th. I plan to hold a big chartbombing event for that day. I will also start releasing new lyrics and chords on the website at the beginning of January. So there will be lots of music coming for you to listen to and enjoy. Though if you want to hear it sooner, I'll be posting it on my free Celtic Songs and Folk music Downloads webpage.
Well that's about the sum of it for now. More news and stuff to come. In the meantime, I'm off to GenCon tomorrow. Hope to see you there. Slainte!