What's up with Marc Gunn this week?
Well, Marc has just recently returned home from the Texas Hill Country!  For the past two weekends, he has been  at the Sherwood Forest Fair, where he jammed with Cedric of the Bedlam Bards playing Firefly Drinking Songs, music inspired by Joss Whedon's Firefly and Serenity (you can find the CD of Firefly Drinking Songs here and here and here!).  And if you, too, are a fan of the Bedlam Bards and Firefly Drinking Songs, you might be interested to know that Monahan's Mudder's Milk Tees are available–get one today!  (Mudder's Milk is also to be found in WoW— Level 75 consumable, "strong alcohol," restores 7200 mana over 30 sec–but you have to wait for Brewfest.  Yeah.  I claim "geek" status, too.)
While at the Faire, Marc also enjoyed the music of Lady Susan and Cap'n Gregg–the Rambling Sailors–whose song "Rambles of Spring" was one of the Top 20 Best of 2011, featured in one of my personal favorite episodes of the Irish and Celtic Music Podcast, Show #115.  You don't have to look far if you want to hear them for yourselves, though–just look to today's Pub Songs Podcast #113 for their version of "Irish Rover"!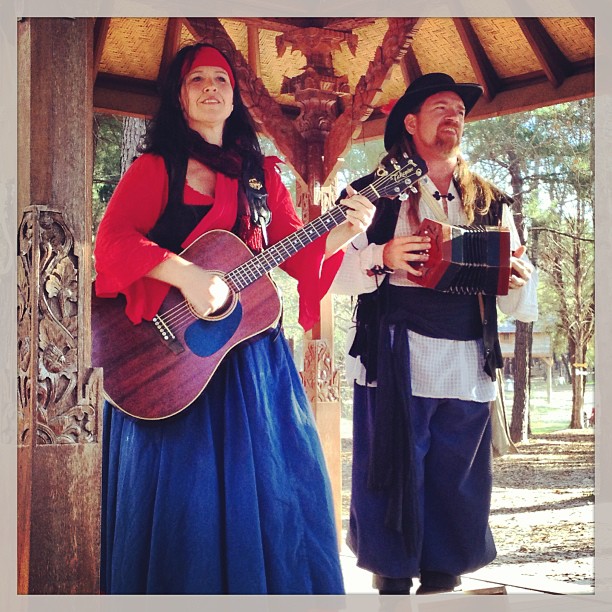 Also on Pub Songs Podcast #113, look for news from the Celtfather, music by Marc Gunn, and music from the Bedlam Bards.  I'm sort of anxious to hear "Led Zeppelin Polkas" by The Tea Merchants, myself…  Find the Pub Songs Podcast on YouTube along with Marc's other podcasts!
This weekend will bring more excitement, as Marc heads to AnachroCon in Atlanta, Georgia.  AnachroCon celebrates all manner of alternative histories, from Renaissance to Steampunk and back again, with heavy emphasis on the "speculative."  What better place for a Celtic Geek musician in a kilt?
Music News
The votes are still coming in for what CD Marc should release next.  Which will it be, Scottish Songs of Drinking & Rebellion, or Geeky Comedy and Filk CD (name TBA)?  Don't be left out of the democratic process!  Vote for your preference today!
In 2007, Marc put together a compilation CD titled Victims of Irish Music.  The CD is based both on the idea that under English rule, musicians were real victims who suffered consequences for playing their tunes and songs, and the idea that as Irish music continues into the 21st Century, musicians have kept their music from falling victim to political oppression or being overwhelmed by changing musical trends.  Irish music continues to play on!  Six years later, Marc is working on an article that gives a glimpse of where these artists are now.  Be looking for it!
St. Patrick's Day is Approaching!
Well, maybe not fast enough.  But that's okay.  Not Every Day is St. Patrick's Day, as we know!
Besides being his birthday, St. Patrick's Day has always been one of Marc Gunn's favorite days.  He has a web site devoted to his love of the most green of holidays (Earth Day notwithstanding), and plays shows on St. Patrick's Day every year!  So stay tuned in the coming weeks for Marc's St. Patrick's Day plans for 2013!
While you wait, have a listen to one of the quintessential Irish songs "Whiskey in the Jar" from Not Every Day is St. Patrick's Day.  Want to sing along?  Find the song and its lyrics here, on Marc Gunn's Irish Song Lyrics and Other Celtic Lyrics web site.