The first two days of GenCon are over. So far, this is once again a brilliant convention. I'm just having a blast.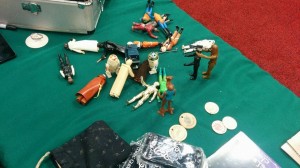 For starters, I wake up early and get a nice walk in the cool air as I talk with Kenzie and Gwen on Facetime. I love "being there" as Kenzie goes from groggy to "let's play" even though we're chatting through a phone. I love my iPhone. Isn't technology wonderful?!
Yesterday afternoon, I finally got to try out my new Roland Cube Street Ex for busking. The response was tremendous. The number of tips were up with being amplified. Plus, people happily walked by smiling, dancing, clapping and just totally enjoying the music. Sadly, I don't have that kind of success when I play unplugged. I wish I did. But the amp is working wonders!
The Firefly Drinking Songs show last night was awesome despite some challenges. The room was a bit smaller and there was a huge pillar from the former train tracks that run through the hotel (look up Crowne Plaza Union Station for details). There were 115 people who attended, which was a little down from last year. But the energy and enthusiasm and the smiles in the audience were spectacular. I don't think there was one person in the group who was NOT singing along. Everyone was involved and having fun.
The final bit of fun has been on Facebook. I brought my Star Wars figures to the convention. So we are creating a scenario and building a story with visitors help. Yesterday was Episode 4 characters. Today is Empire Strikes Back. If you want to be a part of the story, just visit the Facebook page.