Even with sick girls at home, I have lots of amazing plans for the coming months. I made a new work schedule last week. I will release new Marc Gunn content every Tuesday. This will include new songs, videos, Pub Songs Podcasts, and newly branded Celtfather Music & Travel podcast. There's a lot to come.
Performing at Johnnie MacCracken's this Saturday, May 13. Is it the last?
I am back at Johnnie MacCracken's Celtic Pub in Marietta, Georgia this Saturday. If you live nearby, please come to the show. And come early. In fact, I'm playing from 7pm until 11pm.
Yes! You read that correctly. I am playing a non-smoking, pub in Marietta at a reasonable hour. And it's free! You really can't find better entertainment than that. So don't miss this show!
They have a tasty buffet and lots of delicious craft beers. It's gonna be awesome!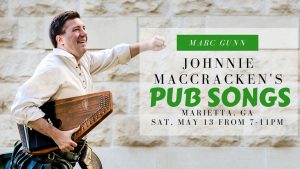 Marc Gunn Video News for May 2017
Gunn Runners keep emailing me telling me they are sick of social media. A few have quit Facebook altogether. That's one of the reasons I decided to move my future videos over to YouTube. Yes, I'll still share to Facebook and other socials, but if you want video, subscribe to my channel.
I plan to use YouTube a lot more this summer. I'll be starting it off with short, monthly video updates like this one.
Watch my May the Fourth Be With You Nerd Pub Songs Show
I heard that it was now possible for some YouTube channels with a 1000+ subscribers that they could now record video live on their phones.
I confess I prefer using my phone for videos. So I recorded an entire show of Nerd Pub Songs for Star Wars Day last week. The show is now on YouTube. Click the image below.
Listen to New Songs
One of the cool things about the new Kickstarter is that I have new music recorded that I can share. Right now, I'm posting the songs on Soundcloud, but you can listen to them over on the Kickstarter for As Long As I'm Flyin', my new Browncoat album.
While you're there, check out the rewards. I've added a lot of new ones since I launched the campaign 21 days ago.
Pub Songs Podcast Features Rebel Songs
I'm excited about this Rebel songs episode of the Pub Songs Podcast. For one, Irish rebel songs were many of the first songs I learned when I started playing Celtic music.
However, this episode goes a little bit further. Yes, there's a short set of Irish Rebel songs, but I also added some of the more modern adaptations–Sci Fi Rebel Songs. It's a fun show that's sure to get your blood racing!
Juggling Adventures Interview with Paolo Garbanzo
Once again, The Celtfather podcast is undergoing a change. I'm trying to better manage my time in the coming months. So I've rebranded the podcast as Celtfather Music & Travel. Yeah, I like to use names that say exactly what it is about. My goal is to put out a monthly podcast featuring news about my music and interviews with musicians and people who travel. I want to share ADVENTURES in the podcast. So that's my goal. There's lots of room to do that in the show.

Browncoat Kickstarter $1300 away from 3rd Stretch Goal
There's 9 days left for my Kickstarter for As Long As I'm Flyin'. I'm trying to come up with creative new ideas to spread the word and get more people checking out the campaign. But it's tough when you're doing it all by yourself.
That's why I want to ask you for a HUGE FAVOR. Please share the Kickstarter with someone… or a dozen someones. The more Browncoats who hear about the campaign, the more that will support it. The more Stretch Goals we hit, the bigger and better I can make the entire album. So please SHARE!
Oh! Incidentally, I have a cool video idea for "Raise a Glass to Flyin'" (listen on the Kickstarter page). I saw this kids doing Parkour at the park. I don't know if I can afford to pay them to be a part of a video. But wow! It could be awesome!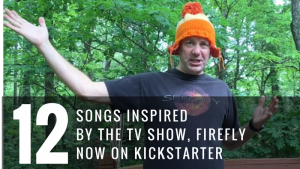 New Music Video Strategy and Video: Gypsy Rover
It is difficult making music videos. It requires a lot of planning, concept development, and time. I've finally come to realize it's also an essential part of being a modern musician. The trouble is, I have so much music, and not enough time to make videos. Every song could benefit from some sort of video.
So I developed a new music marketing strategy to overcome this challenge. Now it's time to test it. I want to release two new music videos per month.
Here are the types of music videos you may see me release with my music:
A Day in the Life Video: Throughout the day, I will record short video clips that show what happens during that day. I'll then set the video to music from one of my CDs.
Performance Video: One song either recorded live or set to pre-recorded music with me playing the song in an interesting location.
Video Postcard: Similar to A Day in the Life Video, this video highlights a specific location or event with my music in the background and a "wish you were there feel".
Run and Sing Video: This is a novelty idea I had. I want to go for a run, start up recording the run, then head home, tired and exhausted and start playing live. We'll see how much breath I have.
Official Music Video Story: My favorite music videos I've made are "Slainte Mhaith" and "A Pirate's Confession". I think I did a decent job telling a story in those two videos. And they weren't too difficult to produce.
I'll be honest. I don't know yet if this new strategy will work. But I will let you know of the results.
In the meantime, here's the latest music video for "Gypsy Rover" from my CD The Bridge:
Hobbit Reviews… Did It Work?
Last year, I made a bunch of requests for you to review Don't Go Drinking With Hobbits, mostly because of this infographic I found.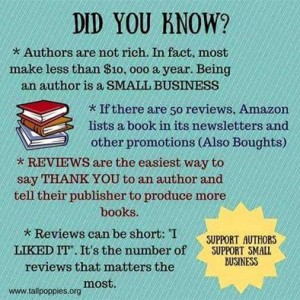 What were the results? 
It takes time for determine results of campaigns. I have four years fairly easily accessible. So we will use those. I should point out that I was pushing Amazon sales. But the numbers below are from all digital platforms.
I never saw if the album was featured on Amazon. However, the album has 57 reviews, and I noted that it is listed on Amazon Prime with a discounted CD price. I get a decent number of CD sales through Amazon where it is my best-selling album.
2014
Feb | Mar | Apr = 3 month Average
$14.94 | $15.35 | $9.81 = $13.37
2015
Feb | Mar | Apr = 3 month Average
$15.99 | $36.80 | $23.21 = $25.33
2016
Feb | Mar | Apr = 3 month Average
$2.66 | $14.68 | $4.69 = $7.34
2017
Feb | Mar | Apr = 3 month Average
$20.54 | $30.23 | $12.76 = $21.17
As you can see, my digital sales were growing until 2015. In 2016, there was a HUGE drop in income. I'm not sure why. But as of 2017, the album nearly tripled the 2016 results.
Now a couple months later, I tried this same test with the compilation Best of the Irish & Celtic Music Podcast. That album now has 56 reviews. Here are the results:
2014
Feb | Mar | Apr = Average
$17.75 | $54.10 | $55.26 = $42.37
2015
$6.02 | $2.98 | $1.32 = $3.44
2016
$20.01 | $26.72 | $45.01 = $30.58
2017
$5.87 | $21.26 | $43.03 = $23.39
If I was only looking at the Hobbit CD, I might call this whole test a success. However, looking at these stats, I can't help but think the infographic hypothesis, at least for music, is flawed. Otherwise, 2017 stats would be higher than 2016.
I think is something that will have to be revisited at a later date. Another test I should try is to get 50+ album reviews in the first week. I don't know if I have enough fans to make that happen. But that might be more effective than with CDs that have been selling for several years already.
Coming Soon…
Podcast, pictures and videos from my Celtic Invasion of Brittany
Guest of Honor at InConJunction in Indianapolis
Return to GenCon
Celtic Pub Songs on the Pub Songs Podcast
Irish Women for Mother's Day on the Irish & Celtic Music Podcast
Irish Drinking Songs for 2017 on the Irish & Celtic Music Podcast
PS. Get Kilted!
You can now order Kilted For Her Pleasure t-shirts on my bandcamp page and you will get a digital copy of the CD of the same name and a bumper sticker for FREE!
Buy one in May 2017 and I'll even send you an autographed physical copy of the CD as well.