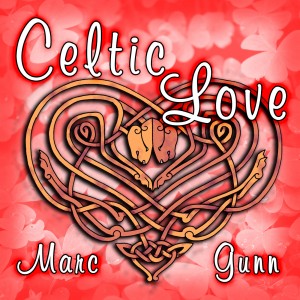 There's a blog I saw online that said Irish "love" songs were unromantic. That's a bunch of hogwash by some cynical people who don't know or appreciate Celtic music. The Celts are some of the most-passionate people in the world. One of the goals of my new compilation CELTIC LOVE is to highlight the beauty and romance of Irish and Scottish songs just in time for Valentine's Day.
I am pleased to present to you Celtic Love. On this compilation of love songs from my various CDs, you will find some of those truly pragmatic Celtic love songs like "Wild Mountain Thyme", where the final verse says, "If my true love, she won't come, I will surely find another". Or in "Peggy Gordon", you will hear, "I wish I was in some lonesome valley, where womankind cannot be found."
However, you'll also hear some about a woman who runs off with a gypsy with no regrets. There's "Mairi's Wedding" which celebrates marriage. And from my own hand, you'll hear about the love of longing to reunite in "Purple Flower" as well as the passion of falling in love with "When She Held Me In Her Arms".
This album is a beautiful mix of Celtic love songs that I hope will make your heart smile and swoon… just the sort of music you want for your Celtic Valentine's Day.
It is a compilation though. Songs come from The Bridge, How America Saved Irish Music, Scottish Songs of Drinking & Rebellion, Irish Drinking Songs: The Cat Lover's Companion, and Soul of a Harper. There's also two songs that will be out on a full-length upcoming album.
You can buy Celtic Love on CD Baby right now. It'll be on iTunes and Amazon in a few days. And should be available on CD by the end of next week as well.
Oh! If you want some more Celtic love songs, check out this video on YouTube. It's from one of our hit Celtic love episodes of the Irish & Celtic Music Podcast.