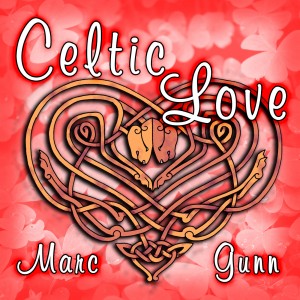 Celtic Love got it's first review last week on Amazon. I love seeing new reviews. I recently heard on a podcast that for books, if you can get more than 25 reviews in your first week, then your book will rank better. I don't know how true that is, but it makes sense. It seems like a smart marketing angle.
That's why I'm doing a big push to get reviews for St Patrick's Day Songs for Kids when it is officially released on March 1st. In fact, you can get a free copy, just email me.
But right now, we're talking about Celtic Love. This is the new compilation CD that I released at the end of January, in a flurry. Now I want to share the lyrics from the new album. You can find most of these over on the Irish Songs Lyrics website. That's where I post all of my traditional and traditional-sounding Celtic songs.
Oh! And don't miss my Celtic Valentine's Day special on the Irish & Celtic Music Podcast.
Gold and Platinum Patrons of my music can download the album for free.
Celtic Love Song Lyrics
Peggy Gordon
lyrics and music traditional
Oh Peggy Gordon you are my darling,
Come sit ye down upon  my knee,
And tell to me the very reason
Why I am slighted so by thee.
I'm so in love I cannot deny it,
My heart lies smothered in my breast,
But It's not for me to let the world know it,
A troubled mind has no rest.
I wish I was in some lonesome valley,
Where woman-kind cannot be found,
Where the pretty small birds lie on every branch
And every moment a different sound.
Gypsy Rover
lyrics and music Leo Maguire, based on Child Ballad #200
A gypsy rover came over the hill
Down through the valley so shady.
He whistled and he sang 'til the green woods rang
And he won the heart of a lady.
Ah-dee-doo-ah-dee-doo-dah-day
Ah-dee-doo-ah-dee-day-dee
He whistled and he sang 'til the green woods rang
And he won the heart of a lady.
She left her father's castle gate.
She left her own fine lover.
She left her servants and her state
To follow her gypsy rover.
She left behind her velvet gown
And shoes of Spanish leather
They whistled and they sang 'till the green woods rang
As they rode off together
Last night, she slept on a goose feather bed
With silken sheets for cover
Tonight she'll sleep on the cold, cold ground
Beside her gyspy lover
Her father saddled up his fastest stead
And roamed the valley all over.
Sought his daughter at great speed
And the whistlin' gypsy rover.
He came at last to a mansion fine
Down by the river Claydee.
And there was music and there was wine
For the gypsy and his lady.
"He is no gypsy, my Father," she cried
"but Lord of these lands all over.
And I shall stay 'til my dying day
with my whistlin' gypsy rover."
Wild Mountain Thyme
lyrics and music Francis McPeake, based on a Scottish song Braes o' Balquhidder
Oh, the summer time is coming,
And the trees are sweetly blooming,
And the wild mountain thyme
Grows around the blooming heather.
Will you go, lassie, will you go?
And we'll all go together
To pull wild mountain thyme
All around the blooming heather,
Will you go, lassie, go?
I will build my love a bower
By yon clear and crystal fountain,
And all around the bower,
I'll pile flowers from the mountain.
I will roam the country o'er
Through that dark land so dreary;
And all the spoils I find,
I'll bring to my darling dearie.
If my true love, she won't have me,
I will surely find another
To pull wild mountain thyme
All around the blooming heather.
Oh, the summertime is coming
And thre trees are blooming
And the wild mountain thyme
Grows around the blooming heather.
When She Held Me in Her Arms
lyrics and music Marc Gunn
Through a market, I wandered and prayed
That I'd find me a woman I might marry some day.
Well, I never dreamed when I prayed that prayer
That the woman I longed for was standing there.
When she held me in her arms that night,
I held her close, and I held her tight.
And I swore that day forth, I'd love her all of me life.
When she held me in her arms that night.
She smelled of the sweetest lilac skin.
And I admit it now it drew me in
Oh, her voice cast a spell I could not disobey.
Every word was a river that swept me away.
Oh, the market became a more beautiful place:
The flowers more fragrant, and the clothing all lace.
And her eyes, oh, her eyes! They begged me to stay
And twenty years later, I've not regretted a day.
Star of the County Down
lyrics and music traditional
Near to Banbridge Town, in the County Down
One morning last July,
Down a boreen green came a sweet colleen,
And she smiled as she passed me by;
Well, she looked so sweet from her two bare feet
To the sheen of her nut-brown hair;
Such a coaxing elf, sure I shook myself
To make sure I was really there.
* From Bantry Bay up to Derry Quay,
And from Galway to Dublin town,
No maid I've seen like the sweet colleen
That I met in the County Down.
As she onward sped, sure I shook my head
And I looked with a feeling rare.
Then I said, says I, to a passer-by,
"Who's the maid with the nut-brown hair?"
Well, he smiled at me, and with pride says he,
"That's the gem of old Ireland's crown,
She's young Rosie McCann from the banks of the Bann,
She's the Star of the County Down."
Well I've traveled a bit, but ne'er was hit
Since my roving career began;
Then fair and square I surrendered there
To the charms of young Rose McCann.
I'd a heart to let and no tenant yet
Did I see in shawl or gown,
But in she went and I asked no rent
From the Star of the County Down.
At the harvest fair, I'll be surely there
And I'll dress in my Sunday clothes
With my shoes shone bright, and my hat cocked right
For a smile from my nut-brown Rose.
No pipe I'll smoke, and no horse I'll yoke
Though with rust my plow turns brown,
Till a smiling bride by my own fireside
Sits the Star of the County Down.
The Bridge
lyrics and music Marc Gunn
Was it something I said that made you angry with me.
Made you dig a deep river to keep you from me.
Oh, the water is rushing, come to sweep me away
'Less I die of sorrow, I will cross it today.
I would build me a bridge a hundred meters long
To see the other side of what I did wrong
Well you say you don't hate me, but I guess that I'm scared
That with a river between us, you'll no longer care.
I would build a boat, and paddle agaist all sorrow.
And if I sail down the river, then I'll be back again tomorrow.
I would face cold death, run and leap to your side.
And if I fall in the river, I'll be warmed by your sight.
I would beg your forgiveness for the pain I've fed
And I'd find the source of the river you've bled.
Then I'd close the gates of the dam I built there.
And never again will you have anything to fear.
Well I never knew that your tears ran so deep.
But when I'ved dammed those tears, I will kiss your sweet cheek.
I will hold you close 'till your tears finally cease.
And I'll sing you a lullaby to bring you peace.
Black Is the Color
lyrics and music traditional
Black is the color of my true love's hair
Her lips are like some roses fair
She has the sweetest smile and the gentlest hands.
I love the ground whereon she stands
I love my love and well she knows
I love the ground whereon she goes.
And I wish the day, it soon will come
That she and I will be as one
I'll go to the Clyde and I'll mourn and weep
Where satisfied I never shall be
I'll write her a letter, just a few short lines
And suffer death ten thousand times
Mairi's Wedding
lyrics and music traditional
* Step it gaily, off we go
Heel for heel and toe for toe,
Arm in arm and off we go
All for Mairi's wedding.
Over hillways up and down
Myrtle green and bracken brown,
Past the sheiling through the town
All for sake of Mairi.
Plenty herring, plenty meal
Plenty peat to fill her creel,
Plenty bonny bairns as weel
That's the toast for Mairi.
Cheeks as bright as rowans are
Brighter far than any star,
Fairest o' them all by far
Is my darlin' Mairi.
Purple Flower
lyrics and music Marc Gunn
There's a wren on a rock wall
Thorny gorse grows all around
It is miles to the ocean
And to auld Galway town
My feet feel so weary
Without you by my side
So I'll pick this purple flower
For the day we reunite
Here's a flower, my darling
From the banks of Ross Lake
It will sit by my bedside
Til your form I embrace
As I walk the Aran Islands
Honeysuckle is all in bloom
The rock roads seem harder
With my heart missing you
Though the beer is ever flowing
And the craic is quite grand
Though the music may be growing
It is lonely in this land.
The sun sets too slowly
Over Galway's brisk bay
Crashing waves seem to slow us
As we sail from the quay
I see you by the pier side
And my heart starts to soar
In my hand is your purple flower
Now you're mine once more
Green Grow the Rashes
lyrics and music Robert Burns
There's naught but care on every hand,
In every hour that passes, O!
What signifies the life o' man,
And 'twere not for the lasses O?
Chorus:
Green grow the rashes O!
Green grow the rashes O!
The sweetest hour that e'er I spent
Were spent among the lasses O!
The war'ly race may riches chase,
And riches may soon fly them, O!
And tho at last they catch them fast,
Their hearts can ne'er enjoy them, O!
But gie me a cannie hour at e'en
My arms about my dearie, O!
And war'ly cares and worldly men,
May all gae tapsalteerie, O!
For you sae douce wha sneer at this,
Ye're not but senseless asses, O!
The wisest man the world e'er saw,
He dearly loved the lasses, O!
Auld Nature swears the lovely dears,
Her noblest work she classes, O!
Her apprentice hand she tried on man,
And then she made the lasses, O!