Podcast: Play in new window | Download
I had an amazing time at DragonCon 2015! The Firefly Drinking Songs and Hobbit Drinking Songs concerts were huge and a ton of fun! The Brobdingnagian Bards concerts were fantastic (though a blur), followed by an excellent set with Tom Smith. And thanks to the tremendous help of my Atlanta Street Team, we've hit a record year in sales and promotions! Probably our best years to date!
PubSongs Podcast is going to be reinstated next year! Check out the website for upcoming news!
Inspirational Quote: "It's easier to know what you're against – quite another to know what you're for." The Wind that Shakes the Barley (2006)
One of the first Celtic bands that came across my radar was The Emerald Rose, and they were one of the springing off points for me becoming a celtic music performer and podcaster.
Celtic Music Spotlight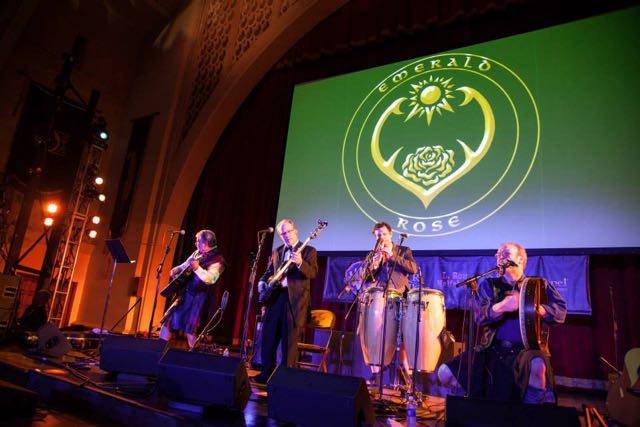 Band: Emerald Rose
Homepage: http://emeraldrose.com
From CD: Sunwise
Songs: Ancient Days, Mountain Fey, Drombeg
Year Released: 2014
Hometown: Dahlonega
Description: Celtic American Folk Rock. Emerald Rose is a four-man folk rock band in the New Celtic tradition with a rich, original "world fusion" sound with influences ranging from the Chieftains to Jethro Tull. Blending harmony vocals, pennywhistle, Irish pipes, world percussion, driving guitars and bass, their music ranges from traditional jigs and reels to original folk rock and pop numbers. Many of the band's musical themes draw from Celtic myth and legend, but their style is modern, upbeat and accessible.
To subscribe, go to iTunes, or go to Celtfather.com where you can also join my mailing list. This show is sponsored by my Patrons at marcgunn.net. Your generous monthly donation feeds a human family of three and half plus three cats. Post feedback in the shownotes, use the hashtag #celtfather on social media, or email me marc@marcgunn.com
Mentioned This Week on The Celtfather #43
A shout-out to my new Patrons: Tim, Angela, and Carol! You're the reason I can do what I do!
Upcoming Shows
A Shoutout to my Atlanta Street Team for an amazing job done at DragonCon! Thanks so much for your help and time Cat, Pattie, Deb, Chris!
Celtic Music Spotlight: Emerald Rose
Movie Recommendations: Ratatouille, The Wind that Shakes the Barley
DragonCon 2015 Stories
Pubsongs Podcast is to be reinstated sometime early next year!