Podcast: Play in new window | Download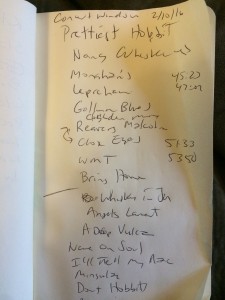 I had a good show last night on Concert Window. It was great to be back. It was awesome to see all of the names who popped up in the chat room. Here's the stats:
17 People

bought tickets at an average of $6.87 per ticket. Your total share is $81.72

6 Subscribers

watched, your share of which is $2.09

19 Tips

were given. Your share is $87.50
You earned

$171.31

(70% of all revenue)
I think that's a pretty decent turnout considering I had less than one week to promote the show. I used my new mixing board. So the sound was pretty good too.
Best of all was the set. I put together a fun set list featuring some new and old songs, a lot of my strongest material. I had some good requests and a lot of interactivity.
Here's the full set list:
And the requests:
You can watch a Highlight of me performing "Monahan's Mudder's Milk" here.
All in all, it was a successful concert. The next one is scheduled for Thursday, March 10th. I hope you can join.
Oh! And listen to the podcast for more details about the show.
—
If you enjoy this episode, then please post a review on iTunes or your favorite podcatcher. Subscribe to the show at
www.celtfather.com
 where you can join my mailing list to download a free album of my Celtic and comedy music. Special thanks to my Patrons. You can support my craft for as little as $1 per month. Become a Patron at 
www.marcgunn.com/patron
Post feedback in the shownotes, use the hashtag #celtfather on social media, or email me marc@marcgunn.com