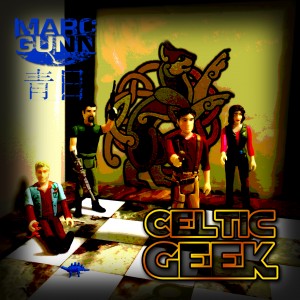 Some bands give away 1-3 MP3s to promote their music. I've been doing this long enough to realize that just isn't enough. If you really want to get to know someone's music, you need a good album to listen to, freely, and on repeat. Then,  you'll fall in love with it.
That's my philosophy anyway. And since I have 20 studio solo albums to my name, giving away a full album of music is kind of easy to do. The toughest part is picking the songs for said album. I am super pleased to introduce to you my newest compilation–CELTIC GEEK!
This album features 21 tracks from my first 20 albums. You might call this a "Best of Marc Gunn" compilation, except I don't think it has all of my best songs, just most of them.
You can subscribe to my mailing list to get the free album right now!
I first started recording solo albums in 2004 with my album Soul of a Harper. It won best cover art that year in the Austin Music Awards held by the Austin Chronicle. Some of the songs are still favorites of fans today. Some even were later recorded by my old band, Brobdingnagian Bards.
Since then, I've released a lot of albums. At one point, I released four albums in a year. It's a lot more difficult to release that many albums now that I'm a dad with a beautiful wife and two amazing little girls. But that doesn't stop my passion for creating and sharing music.
The video below will tell you a bit more about each of these 21 songs and tunes. I also play "Wild Mountain Thyme" live at the end of the show. Then you can read on to learn a little more about each of the songs and why I picked it below.
I hope you enjoyed that video. If you did or did not, I'd love your feedback in the comments. I recorded using Facebook Live on my fan page. I do those shows at least once a week. So go subscribe if you want to join my discussion.
Here's the track listing for Celtic Geek along with a few notes about each of the songs.
By far, one of my most favorite songs to kick off shows. If I want something fast and upbeat, I pick this song. It never gets old.
This is still one of my most-requested songs since I wrote it at DragonCon years ago.
This has become the standard closing song for most of my shows since I learned it at the California Autoharp Gathering several years back. It's a great sing-along and I'm sure the fact that it's the original Steampunk song, doesn't hurt.
4. "The Leprechaun" from St Patrick's Day Songs for Kids
I have two solo recordings of this song. I decided on my more recent one because there were several recordings on Soul of a Harper that I really wanted to use, and this one has certain energy that I love.
This was kinda tough. I love The Bridge. It's an awesome album. It also has my favorite recording ever that I've done, "Peggy Gordon". But I decided on this song because it is one of my most-popular recordings.
This song won hands down. If I ever want to play a song from Whiskers in the Jar, I usually pick this one. Everyone loves it, whether they are cat lovers or not.
7. "Silhouette of Longing Love" from A Tribute to Love
"What's this song," you ask? It's from my album A Tribute to Love. It's one of my most-favorite instrumental pieces I've written. Nothing else from the album moves me quite as much as this, even though I still enjoy the love sparks found on that album.
8. "Johnny Jump Up" from Happy Songs of Death
This is a favorite performance song. I play it more than the song I wanted to put on it–"I'll Drink From Dusk Til Dawn". But as much as I love the latter song, I don't feel it's ever caught on as much as this one. I would love it if someone would record a version of "I'll Drink From Dusk Til Dawn" that really hits a home run.
9. "Close Your Eyes" from Kilted For Her Pleasure
I seriously thought about recording a new version for this compilation, "Reavers Lullaby" because SO many people have requested my filk of Daniel Glasser's twisted lullaby. But I just haven't made the time. And plus, I didn't have space on the compilation to add a different song.
Again. Do I use this version or the one from Kilted? I choose this one because, first, it worked. It sounds great with the mix. And second, because I like the "we'll leave Higgins GORRAM moon some day". Instead of "damn". Cedric did a great job changing that up.
11. "Gollum Blues" from What Color Is Your Dragon?
Still a favorite among anyone who hears it. This and "Saffron" are the most-popular songs from that CD.
12. "The Bridge" from Soul of a Harper
This album was a bit tough to pick a song. There was "The Bridge", "Buttercup's Lament", "The Leprechaun", and "The Lady of Setliff Manor". The last one really isn't most popular, but it's one of the first Irish tunes I wrote that I thought was great and it is beautifully inspired by Turlough O'Carolan. But my wife once told she loved this version over the newer one. And I agree. This one truly captures the soulful love behind the lyrics.
13. "Red-Haired Boy Lilting" from St Patrick's Day Songs for Kids
This is the second track I added from St. Patrick's Day Songs for Kids. I chose because it was short, and it features me lilting, a musical style I've been experimenting a lot with over the past year. I did a good job on it. So I decided to add it as a bonus.
14. "Molly Malone" from Irish Pub Songs Companion
You may've missed this track. I recorded it a while back and released it on Irish Pub Songs Companion, another compilation from the Irish Drinking Songs for Cat Lovers series. My intent is to release it officially on my next album as well. In the meantime, it's a bonus freebie.
15. "Lord of the Pounce" from Irish Drinking Songs for Cat Lovers
This song is by far the most-popular song from my cat lovers albums. IMHO it doesn't make a great live performance song, but something about it… really captures the imagination of listeners.
16. "Kilkelly Ireland" from Not Every Day Is St. Patrick's Day
I know I promoted "Nancy Whiskey" when the album was released. But I think of all the shows I play on Concert Window and this one ALWAYS gets requested, and not always by the same two people. It's a beautiful ballad with a great story behind it.
Speaking of stories, I love the story behind this song. It's a whole fae mythology that's new, fun, and satirically Irish. There are other songs on my Christmas CD that might be better, but I thought this one also works any time of year.
18. "I'll Tell My Ma" from Irish Drinking Songs: Cat Companion
I don't play many songs from this album much any more, except this one. It's fun, cheerful and happy. And my daughter Kenzie loves to sing along with it.
19. "Fairy Tale Waltz" from Heart's Ease
I picked "Fairy Tale Waltz" almost exclusively because it is the most-popular song on iTunes. Mind you, I love the beautiful melody, but this is why I picked it. I don't play many tunes from this album, sadly.
20. "Whiskey, Johnny" from Going for Brogue
I debated whether I wanted to add a track from Going For Brogue. I released the album in 2008, I think. After recording Kilted For Her Pleasure, I stopped selling it.I don't play most of the songs the same way as are on the album. And I don't sing with a brogue any more. The whole album was largely a marketing project that worked out really well. In fact, Going for Brogue is one of my more popular albums on iTunes!
Just one line made me decide to add this to the compilation, "I'll drink whiskey in a noose. I'll drink whiskey with Doctor Seuss". That is a unique verse I added to a traditional sea shanty that always makes me smile. I figured most people never bought this album, so why not include it here.
21. "Mingulay Boat Song" from Scottish Songs of Drinking & Rebellion
This is by far the most-popular song from my Scottish CD. And it's one of my favorites to sing. It was a no-brainer.
Now as I look through this list, I realize that there's no song from Live at the Cactus Cafe. Kind of a shame since CD Baby made it an Editor's Pick. But I just didn't feel it was necessary to add a track form that album, especially since I ran out of space.
So what do you think? Good list?
Would you consider this a "Best of Marc Gunn" album too?
What songs do you think should've been on the compilation instead of what's here?
Well, no matter what you think, go
subscribe to my mailing list and
download Celtic Geek FOR FREE!
Once you enter your email address, you'll get a confirmation email. Click that and then you'll get an email with a link to download a ZIP file of the entire album. Download and unzip. Then start listening.
Also in the email is a short podcast where I talk more about my music and other free offerings.
Oh! And if you enjoy my music, then show your support. Buy a CD or become an Official Gunn Runner.
Thank you again for all your support. Let me know how you like the music.
Slainte!
Marc Gunn, The Celtfather