Greetings Gunn Runner
I'm sure everyone north of Alabama dug their heals into the ground to prepare for Snowzilla. However, my family loves snow. And we love a good adventure. So on Saturday, we drove up I-65 to Columbia, Tennessee. We stopped at a hardware store and bought some trash can lids. Then we drove towards a hill in town and went sledding. It was amazing! See pics on Facebook.
Afterward, we got back in the car and drove to Huntsville, Alabama. I had another fun show at the Maggie McGuinness Pub, hosted by the Irish Society of North Alabama. A big thanks to the Bollingers and everyone who came out to the show. It was a blast!
Let's get on with the news…

Check out the new t-shirts of the Irish & Celtic Music Podcast!
WHAT'S NEW?
1. AUDIO BLOG. January is the month of lists. Most recently, I've been promoting the Top 20 Celtic bands of 2015 and my pick of the best Celtic music of 2015. If you're looking for other Celtic bands to fall in love with, I highly recommend these blogs.
2. VIDEOS. I posted another video from the Louisiana Renaissance Festival. This was me performing my song "Purple Flower". I've also been trying to work on my video recording and editing skills. I made a music video of Inara chasing a ball and set it to one of my Scottish songs. Watch "Follow Prince Charlie, Baby". I'm brainstorming using my old Star Wars figures in a series of music videos. Still need to work on ideas though.
3. PODCASTS. This week on the Irish & Celtic Music Podcast, I released the Celtic Top 20, Best Celtic Music of 2015 episode (yes, it's related to the audio blog I mentioned above, but it is the music show). Dang! It's an awesome episode. I highly recommend it! I also recorded a Celtic music special for the Renaissance Festival Podcast. That should be out in a few weeks.
4. MUSIC. I finally sat down with Dragons vs. Pirates and made rough mixes of ALL of the remaining songs. There were several tracks that need re-recording. So I sent them to Nathan Deese to finish. My hope is that he will have them for me this weekend and I can finish mixing the album next week.
Happy Songs of Death is now on Reverbnation in its entirety. Listen to it here. I'm working on a much-anticipated compilation CD. I haven't decided what to call it. Would you mind taking a moment to vote for which name appeals to you more?
Click here to vote.
5. UPCOMING SHOWS. I have a couple weeks off to work on the next album and prepare for St. Patrick's Day. On Saturday, February 13th, I return to Johnnie MacCracken's Celtic Pub in Marietta, Georgia. The following week, I flow to Texas for two weekends at the Sherwood Forest Faire. The second weekend has something special happening. Click here for details on Facebook. I'm getting closer to picking dates for my next Concert Window show. If you'd like to be notified immediately of the show dates, join the list here.
6. Are you part of the Celtic Geek Facebook group? See locations in Scotland from the Outlander TV series. Did you know there's a Tardis-inspired kilt? And meet Harry Potter in your D&D campaing by using these character sheets. You are welcome to post your favorite Celtic and/or geek news.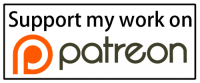 MARC GUNN MUSIC ON PATREON
For the past 15 years, I've made my living by selling music. Sales have dropped significantly during that time. I need your support now more than ever. That's why I started a Patreon page. You can make a pledge to support my music, podcasts, videos, blogs, and art, all for as little as $1 per month. It's a great way to say you are an official Gunn Runner.
I want to thank the 48 people who love what I do so much that they donate $386 per month. Special thanks to some of my newest Platinum Patrons: Benjamin Moore and Chris Cooper.
If you appreciate all the content I share with you for free, then please Become a Patron of The Celtfather!
Thanks again for all your support.
Slainte!
Marc Gunn, The Celtfather
January 26, 2016
SPECIAL NOTE ABOUT MARC GUNN'S NEWSLETTER
Marc Gunn is a rhythm and folk musician inspired by Celtic culture, science fiction, fantasy, and cats. He breathes new life into the autoharp, which continues to surprise musical veterans and fans a like for it's unique sound and spirited energy. It's Celtic music, the traditional and the twisted.
Find me at www.marcgunn.com. Read my blog and find my gigs.
Chat with me at Google, Facebook, Twitter, Instagram, and YouTube
#marcsmusings #celtfather
Please add "slainte@marcgunn.com" to your whitelist or email address book, so that you have no trouble receiving future issues!