We did it!  I wasn't sure if we could actually break the Top 10 on iTunes' World Music Charts, but we did it!  My new CD Not Every Day Is St. Patrick's Day had an amazing CD release yesterday.  I want to thank each and every one of you for helping me make this whole event a tremendous success.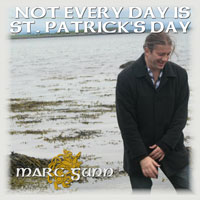 Chart Gazing with the First CD Release Party on Google Hangouts
The day began with excitement buzzing on the social networks.  I spent the morning writing newsletters and blogs and trying to get Gunn Runers involved in the excitement.  By noon, "Nancy Whiskey" had already started climbing the charts.  It continued to climb when I was dragged away from Chart Gazing by a my St. Patrick's Day European CD Release Party.
Maybe it wasn't quite a European CD Release.  I set up the extra show for two reasons: one, to learn a little bit more about Google Hangouts, and two, to share my music with anyone in Europe who might want to watch me perform.  I learned a lot, but the first show was filled with Americans at work.  It was a nice start.  I performed for eight folks, and I was even able to record the show.  You can watch it on YouTube.
Listening the show right now, the sound is kind of poor, and the video is as bad as it looked on my computer sadly.  I'm not sure if that is my crappy video quality or if I was just peeking.  Hmmm… My friend Kris pointed that out in an email.  I'll have to agree with her.
I was also a little distracted because it started snowing in Birmingham.  It never snows in B'ham!
The Chart Topping Begins on iTunes
A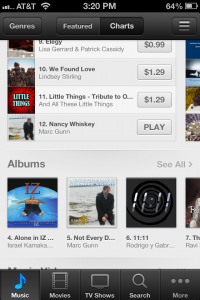 fter the show, I jumped back to iTunes to see how the single was doing.  By about 2pm, it climbed to its highest ranking for the day.  It finished the day at #12 as a Single and the album hit #5 on World Music charts.
That left me pretty excited as I ran off to the day care to pick up Kenzie.  I was determined to let her play in the snow.  By the time we got home though, the falling snow turned to rain.  So I bundled her up in snow clothing.  Then I made a bunch of snowballs for her to throw it me.  She had a blast.  But I was sooo hoping we could do a little bit of sledding.  Ah well.
Throughout the afternoon, I kept watch on Amazon to see if the Single or the album would chart at all.  I was bewildered to see absolutely no traction…. until after my show that evening.
The Evening CD Release Party had some success and some dismal failures.  The show itself was fantastic.  The Hangout was packed with ten great Gunn Runners shortly after 7:30pm.  It was so cool to meet some of the GRs who have so graciously supported my music over the years.  My Executive Producer, Cary Whitney, was even there to show his support.  Bloody brilliant!
The Second CD Release on Google Hangouts with an Incredible Opening Act
I actually had a setlist for the evening show.  However, it was full of surprises.  Most notable was my daughter Kenzie's performance.  She was painting in the background when I started.  But being my daughter, and a total ham, she provided the pre-show entertainment singing songs about boo-boos and anything else that tickled her fancy.  Oh and then I played… Or something like that.  hehe.  Kenzie was a riot!
Everyone in the Hangout seemed to have a blast.  There folks raving about it at the end.  The downside was that I did something wrong when I started the Hangout.  As a result, the show did not record, nor did it allow more than ten people to actually Hangout.  That really sucked.  My deepest apologies to everyone who was unable to make it to the show.
Because of that, I plan to do another Hangout next week.  Keep an eye on Facebook, Google+, or my blog to find out when.  This time, I will make sure everyone can see the show.  I'm gonna try a different method of recording too.  Hopefully, I'll get improved audio and video next time.  If not, I might try another service to see if that works any better.
Chart Topping on Amazon
After the show ended, I was notified that Not Every Day Is St. Patrick's Day finally showed up on Amazon.  It hit #1 as a Single and #2 as an Album for Traditional British & Celtic Folk.  It did the same for Traditional Folk.  For some bizarre reason, they posted it under Comedy too.  It didn't do to well there. The album hit #22 for all Folk Albums.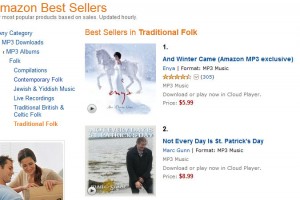 Results of Promoting the St. Patrick's Day CD
Yesterday was super successful for other reasons than topping the charts on iTunes and Amazon.  The biggest result was seeing everyone spread the word about my music.  I got a ton of new Likes on Facebook.  I added a bunch of friends Google+.  There are a lot more views on YouTube.  People were talking and sharing my music.  That's always what I hope most for.  So even if I hadn't done so well on the charts, I would call this day a success!
Again, I want to thank each and every one of you who made this whole event so amazing!  Thank you, thank you!!!
If you haven't bought a copy yet, I strongly encourage you to continue buying it on Amazon or iTunes.  The longer I'm at the top of the charts, the more visibility will album will receive.
If you just want the physical CD, you can buy Not Every Day Is St. Patrick's Day through my Celtic Music CD Store.  If you'd like the it to arrive quicker, then buy it through CD Baby.  They provide amazing service.
One final thanks.  Stay tuned.  I'll let you know about the next online concert very soon
Slainte!