Podcast: Play in new window | Download
Smile along with the jolly ploughboys as we all enjoy Celtic music from Eilis Crean, Ciana, Spoil the Dance, Drones-n-drums, Jil Chambless, Ed Miller and Scooter Muse, Nava, Charmas, Telenn Tri, Melanie Gruben, Forkroot, The Prodigals, Sharon Shannon, Tuatha Dea, Tim Keeley, Christine Weir. http://celticmusicpodcast.com/
Listen and share this podcast. Download 34 Celtic MP3s for Free. Subscribe to the Celtic Music Magazine. This is our free newsletter and your guide to the latest Celtic music and podcast news. Remember to support the artists who support this podcast: buy their CDs, download their MP3s, see their shows, and drop them an email to let them know you heard them on the Irish and Celtic Music Podcast.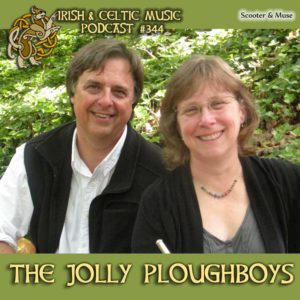 TODAY'S SHOW IS BROUGHT TO YOU
BY CELTIC INVASION VACATIONS
Don't just see the world. Go on a relaxing adventure with a small group of Celtic music fans, just like you. We won't see everything. Instead, we will stay in one area. We will get to know the region through it's culture, history, and legends. You can help me decide where we should go into 2019. Subscribe to the mailing list to join the invasion at http://celticinvasion.com/
THIS WEEK IN CELTIC MUSIC
0:03 "The Cloonlish Hornpipe" by Eilis Crean by Searbh Siucra
4:17 "Up in the Rafters / Heart-Shaped Wood / The Kinnegad Slashers" by Ciana from Ciana
8:00 "Silver Dagger" by Spoil the Dance from Fairer Skies
10:51 "Sterling Disaster" by Drones-n-drums from Contrast
14:44 "The Jolly Ploughboys" by Jil Chambless, Ed Miller and Scooter Muse from The Lang Awa' Ships
19:19 CELTIC PODCAST NEWS
20:01 "Seven Swans" by Nava from Tapestry
24:22 "He Back She Back" by Charmas from Songs of the Sea
26:51 "Elliott Finn MacDonald/Chris Finnen's Reel" by Telenn Tri from Mouse in the Kitchen
32:39 "The Hosting of the Sidhe" by Melanie Gruben from A Faery Song
34:56 "Soil and Seeds" by Forkroot from Water & Shade
38:42 CELTIC FEEDBACK
40:14 "Song of Repentance" by The Prodigals from Brothers
44:32 "Sea Shepherd" by Sharon Shannon from Sacred Earth
49:28 "Grannys Bedtime Tonic" by Tuatha Dea from Kilts and Corsets
53:59 "Albert McGinnis" by Tim Keeley from New Frontiers
58:32 "Dowie Dens of Yarrow" by Christine Weir from Weir Celts
The Irish & Celtic Music Podcast was produced by Marc Gunn, The Celtfather. To subscribe, go to iTunes or to our website where you can become a Patron of the Podcast for as little as $1 per episode. Promote Celtic culture through music at http://celticmusicpodcast.com/.
THANK YOU PATRONS OF THE PODCAST!
Imagine a world with no Celtic music. Sounds pretty horrible, right? All you have is boring music being shoved down your throats by big record labels. You wouldn't get to experience the incredible music shared each and every week in the Irish & Celtic Music Podcast. Our incredibly generous people bring you hours of great Celtic music. You can help celebrate Celtic music and culture and keep this show running every week. Become a Patron of the Podcast at http://patreon.com/celticpodcast
Thanks to our newest Patrons of the Podcast: Christopher Fennell, Stephanie Lutz, John Koenig III, Gerry Corr, Sally Harris
CELTIC PODCAST NEWS
* Helping you celebrate Celtic culture through music. My name is Marc Gunn. I am a Celtic and Geek musician and podcaster. This podcast is dedicated to the indie Celtic musicians. I want to ask you to support these artists. Share the show with your friends. And find more episodes at celticmusicpodcast.com. You can also support this podcast on Patreon.
We have a new sticker in our store. If you love the podcast and want a nice inexpensive way to support the show, buy one of these stickers now.
VOTE IN THE CELTIC TOP 20
It's easier than ever to do. Just list the show number, and the name of one or two bands. That's it. You can vote once for each episode help me create next year's Best Celtic music of 2018 episode. http://bestcelticmusic.net/vote/
I WANT YOUR FEEDBACK
What are you doing today while listening to the podcast? You can send a written comment along with a picture  of what you're doing while listening. Email a voicemail message to celticpodcast@gmail.com
Steve emailed: "Hi Marc, Today i was coming home from a really hard day of work, sat down in my room full of stuff to and thought about how i will be able to do all these things and go to work tomorrow again. Then i thought, well, i might as well listen to some awesome music to calm down. I clicked on the celticmusicpodcast bookmark. What i found was the newest episode 'working hard'. It fitted so perfectly for this day, thanks a lot. Especially because it featured one of my favourite tunes, the Morrisons, which i am trying to learn on the bouzouki at the moment. I remember when i first found your podcast. I was walking through the elfish woods of the alps with a friend, drinking a good irish uisce and listening to episode #151, which i randomly found on youtube. Being there with this music was very magic, and it made us fall in love with irish music (which we never heard before) and we formed a band afterwards. Thanks for inspiring us! Slainte!"