Podcast: Play in new window | Download
Enjoy a little Celtic Love on the show #345 with Celtic music from Poitin, We Banjo 3, Jed Marum with Hugh Morrison and Mason Brown, Steve Hawson, The Gothard Sisters, Colleen Raney, Vicki Swan & Jonny Dyer, Norah Rendell, The Shanties, Seagulls Are Drunk, Ryan MacNeil, Sligo Rags.   http://celticmusicpodcast.com/
Listen and share this podcast. Download 34 Celtic MP3s for Free. Subscribe to the Celtic Music Magazine. This is our free newsletter and your guide to the latest Celtic music and podcast news. Remember to support the artists who support this podcast: buy their CDs, download their MP3s, see their shows, and drop them an email to let them know you heard them on the Irish and Celtic Music Podcast.
TODAY'S SHOW IS BROUGHT TO YOU
BY CELTIC INVASION VACATIONS
Don't just see the world. Go on a relaxing adventure with a small group of Celtic music fans, just like you. We won't see everything. Instead, we will stay in one area. We will get to know the region through it's culture, history, and legends. You can help me decide where we should go into 2019. Subscribe to the mailing list to join the invasion at http://celticinvasion.com/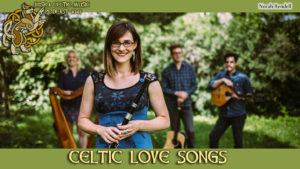 THIS WEEK IN CELTIC MUSIC
0:04 "Newcomer's Reels: My Maryanne / Tommy Peoples' / McGlinchey's / Kitty Gone a Milking" by Poitin from Wish
5:44 "Bill Cheatum / Kitchen Girl / the Donegal Lass" by We Banjo 3 from Roots of the Banjo Tree
9:09 "Annie Laurie" by Jed Marum with Hugh Morrison and Mason Brown from Sands of Aberdeen
12:42 "O'Carolan's Concerto" by Steve Hawson from No Distance / Gan Achar
16:07 "Water Is Wide" by The Gothard Sisters from Compass
19:55 CELTIC PODCAST NEWS
20:44 "Fhear a Bhata" by Colleen Raney from Linnet
25:04 "Fanny Poer" by Harpnotic from Harpnotic
28:45 "The Proposal" by Vicki Swan & Jonny Dyer from Red House
35:03 "Here's a Health Unto All True Lovers" by Norah Rendell from Spinning Yarns
40:36 CELTIC FEEDBACK
42:13 "Sally Gardens" by The Shanties from Fear Not
46:15 "Deep Inside Out the Sea" by Seagulls Are Drunk from Next Round Is On Us
49:20 "My Love Is Like a Red, Red Rose" by Ryan MacNeil from Shuffle
54:14 "Black Is The Color" by Sligo Rags from The Whiskey Never Lies
The Irish & Celtic Music Podcast was produced by Marc Gunn, The Celtfather. To subscribe, go to iTunes or to our website where you can become a Patron of the Podcast for as little as $1 per episode. Promote Celtic culture through music at http://celticmusicpodcast.com/.
THANK YOU PATRONS OF THE PODCAST!
Imagine a world with no Celtic music. Sounds pretty horrible, right? All you have is boring music being shoved down your throats by big record labels. You wouldn't get to experience the incredible music shared each and every week in the Irish & Celtic Music Podcast. Our incredibly generous people bring you hours of great Celtic music. You can help celebrate Celtic music and culture and keep this show running every week. Become a Patron of the Podcast at http://patreon.com/celticpodcast
I want to send a very special thanks to our Celtic Legends. These generous people pledge $10 or more per episode so that you get to hear this show each and every week. Thank you to Bryan Brake, Nancie, Hunter Melville, John Bilderback, Kevin Long, Annie Lorkowski, Derek Lineberry, Lynda MacNeil, John Sharkey White II, Theresa Sullivan, Shawn Cali.  You are are incredible!
CELTIC PODCAST NEWS
* Helping you celebrate Celtic culture through music. My name is Marc Gunn. I am a Celtic and Geek musician and podcaster. This podcast is dedicated to the indie Celtic musicians. I want to ask you to support these artists. Share the show with your friends. And find more episodes at celticmusicpodcast.com. You can also support this podcast on Patreon.
Head on over to BestCelticMusic.net/shop/ and you will find our online store that includes compilation CDs, our 2018 t-shirt, the 2018 Sainted Song Henger Collection, and our podcast stickers. All of these items help to keep this show running. You can show your appreciation for what we are creating here, by buying something today.
I started a new Spotify playlist a couple weeks ago. When you vote in the Celtic Top 20, your vote will not only help determine who is in next year's Best Celtic Music episode of 2018, but you'll also be able to add songs from each show to that playlist. I'm updating it almost every week. This is another way to have fun with me on Spotify.
VOTE IN THE CELTIC TOP 20
It's easier than ever to do. Just list the show number, and the name of one or two bands. That's it. You can vote once for each episode help me create next year's Best Celtic music of 2018 episode. http://bestcelticmusic.net/vote/
I WANT YOUR FEEDBACK
What are you doing today while listening to the podcast? You can send a written comment along with a picture  of what you're doing while listening. Email a voicemail message to celticpodcast@gmail.com
D.L. Lovell tweeted: "I have listened to every podcast from Irish & Celtic Music Podcast. I intend to share every single one to spread the word as I'm proud of my Irish/Scottish heritage. I didn't share the episode where the lady sang 'Feline song' for obvious reason by that was an exception"
Thistle-Evelyn emailed a picture: "I joined an app called "Happier" and one of the fellas on there mentioned your podcast.  I have never listened to a podcast – I didn't know how to even access one.  To come across this Celticpodcast!…?? lovely! What am I doing?  I am scrumbling!…aka doing free-form crochet. Thanks so much for your music ?? I needed this today on a cold blustery day in Northeast Vermont."