Podcast: Play in new window | Download
I met Robert at ShadowCon XX, and was blown away by what he's started with his kids.
In 2009, Robert started off with five kids who needed something to do or felt like no one wanted them around, and began helping old folks out by removing pests from their homes at no charge. Before long, this endeavor had turned into a pretty solid business, and the kids started branching into different directions – now, there is a Construction Crew, Demolition Crew, Toy & Comic Sales, and the original Pest Removal Service. They've grown to 331 'Kids', ranging in age from newborn to 93 years old. Their philosophy is that anyone who is a kid at heart deserves to be a daycare kid.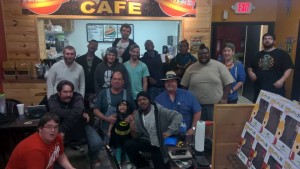 These for-profit businesses are run by the Kids, and are self-funded. No donations are taken or solicited, in order to help everyone learn that they can take care of themselves and their own. Since they started this program (which has now grown to be a nation-wide collective), their neighborhood has been revitalized and crime has dropped.
But where did this idea come from? When Robert was a kid, he had to work any time that his folks noticed he was idle – when work was done, they got to have fun. Later, growing up on the streets, he saw too many lives lost, and decided to make sure that none of the kids in his neighborhood would be lost to the same fate.
Check out all the awesome things they've done, and some of their videos on their Facebook Page!
—
If you enjoy this episode, then please post a review on iTunes or your favorite podcatcher. Subscribe to the show at
www.celtfather.com
 where you can join my mailing list to download a free album of my Celtic and comedy music. Special thanks to my Patrons. You can support my craft for as little as $1 per month. Become a Patron at 
www.marcgunn.com/patron
Post feedback in the shownotes, use the hashtag #celtfather on social media, or email me marc@marcgunn.com