lyrics Rie Sheridan Rose, music Marc Gunn
A song celebrating Celtic Christmas traditions
The Holly, ivy, mistletoe…
The yew branch on the wall
All of these have Celtic roots—
We celebrate them all.
A candle in the window
To call the traveler home
A symbol of trad-ition
Wherever we may roam.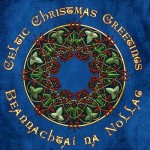 *The year is almost over,
Christmas is nearly here.
It's time for celebration,
Let's raise a glass, my dear—
The year is almost over,
Christmas is nearly here.
Let's make a new tradition
And share our Celtic cheer!
The Yule log in the fire place
The new lit from the old
It burns for all the evening
And brings on luck foretold.
Decorations on a Yule tree,
The way we often do
Bright stars upon the pine boughs
Yes, that was Celtic too.
And even Father Christmas,
Our modern Santa Claus,
Was once a Celtic fellow—
Now, does that give you pause?
So hang a wreath upon your door
And set the Guinness out.
Let's have a Celtic Christmas
That's what it's all about!
Background: As I was working on my album, Celtic Christmas Greetings, I realized I needed another good Celtic Christmas song. I thought it would be extra cool if it celebrated the actual traditions of the Celts that are currently in existence, not just the ones that are becoming a part of the tradition. Nothing was coming to me, so I emailed my friend, author and lyricist, Rie Sheridan Rose if she could help. She sent me these fantastic lyrics that I set to music. I think it perfectly captures our Celtic Christmas traditions! You can find all of the lyrics to the album here.
Find some Scottish Christmas traditions here.