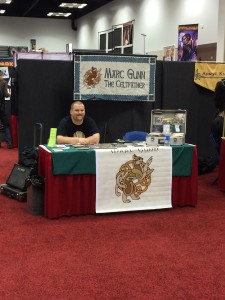 GenCon is less than three weeks away. I haven't checked the ticket sales for my shows, but they usually sell out fairly quick. You can see my full GenCon schedule right here. I have three solo shows plus a showcase as part of Friday Night Live. You can buy tickets to my shows here.
Special Note: If the show is sold out, you can still attend. Just bring Generic Tickets to the event. You will enter after the regular tickets are sold, but usually there are plenty of spots available.
Thursday, 7/30/2015
Firefly Drinking Songs @ 8pm
Westin, Capitol III
Are you're a Browncoat? Do you love Joss Whedon's Firefly & Serenity? Sing-along with Gunn as he shares songs from the Verse, pub-style, like in that wee pub in Canton.
This show is currently sold out. If you want to attend, bring Generic Tickets and arrive early. There will be space available.
Friday, 7/31/2015
Irish Drinking Songs for Cat Lovers @ 5pm
Crowne Plaza, Grand Central Blrm A
Love cats? Irish music? Drinking songs? Join Marc Gunn for a rollicking evening of hair-raising, feline fun as he shares music from his two hit CD series.
Friday Night Live @ 8-10pm
Westin, Grand Bllrm V
Enjoy a comedy & music concert featuring many of Gen Con's best entertainers. It's an evening of smashing laughter & fun, LIVE on one stage for your comedic convenience!
Mikey Mason
Bill Sutton
Dan the Bard
The Great Luke Ski
The Damsels of Dorkington
Sarah Donner
Marc Gunn
Saturday, 8/1/2015
Marc Gunn – Sci Fi Drinking Songs @ 8pm
Crowne Plaza, Grand Central Blrm A-C
Star Wars, Firefly, Lord of the Rings, Star Trek. This is an evening of raucous fun drinking songs from long, long ago, in a convention near you! It's KILTED Celtic Comedy at its Best!
Will you do me a big favor? Share these show times with your GenCon friends. I want to pack out my concerts. Thanks a million! -Marc