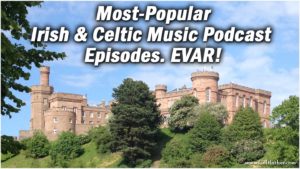 I've been hosting with Libsyn since I started podcasting, with one short, tragic period when I changed servers. I love them. They are always on top of the changes in the podcasting industry.
One such change was in regards to stats. They now have a whole new site just for statistics as of January 4, 2018 It's a little confusing. So I thought now would be a good time to list out the stats for the past 13 years by sharing the most-downloaded episodes of the Irish & Celtic Music Podcast.
What makes any one episode more popular than another? The St Patrick's Day or those right before Paddy's Day are easy to guess. But shows like #130 which came out in October 2012? I have no clue. But wow! 82,000 downloads, Incredible!
Any case, thank you for listening to the Irish & Celtic Music Podcast and allowing Celtic music to grow!