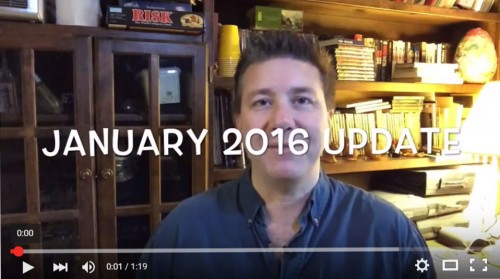 Greetings Gunn Runner
Happy New Year! I usually have a tough time organizing and setting goals each year. But as I find myself taking care of a baby, with less time than ever, I've begun cutting out extraneous plans and focusing on what's most-important with my music and my podcasting.
So this year, I sat down and shared a list of goals in The Celtfather podcast with the hope that I can actually achieve them. And they are achievable. It will require some work. But I'm gonna make this my best musical year ever. I hope you will join me on the adventure!
Let me know what you think of the new format of the newsletter. I'm gonna try to give you just five cool news items in each newsletter and maybe even a short video. I hope you like it.
Slainte!
Marc Gunn, The Celtfather
WHAT'S NEW?
1. On The Celtfather audio blog, you can Listen to some of my Successes and Failures. The show is longer than usual, but I think it's a good glimpse into what I accomplished last year.
2. Here's 3 new videos to check out. I posted a new video from Louisiana Renaissance Festival today. It's a performance of "Ride On". What a great song. If you missed the video of "Name On My Soul", you need to watch it too. This song is currently my most-requested song ever! I also have a short cameo in the new FuMP video "1000 FuMPs".
3. This week on the Irish & Celtic Music Podcast, you can hear Celtic harp music, but if you listen to the Funny Celtic Songs show from New Year's Eve, you'll hear three of my Jedi songs on the podcast. I also shared my Top Played Celtic Bands on the blog.
4. I finally got a new mixer for my home studio after blowing my pre-amp last month. It sounds great as you'll hear in the new Irish & Celtic Music Podcast, but it should also make it easier to finish mixing "Dragons vs Pirates". If you helped Kickstart that album, stay tuned for some music updates.
5. Finally, let me share some upcoming shows. This weekend, I am performing in Memphis, AR as the Guest of Honor of ShadowCon. I played there with Brobdingnagian Bards nearly 10 years ago. How time flies! In 2 weeks, you'll find me back in Huntsville, AL for the gathering of the Irish Society of North Alabama's annual house concert. Don't miss this show. It's an incredible experience! And yes, next month, I'll be back at Johnnie MacCracken's and Sherwood Forest Faire. See all the gigs at marcgunn.com/gigs
MARC GUNN MUSIC ON PATREON
Patreon made a change on how they list monthly donations. Now the exact amount that is donated is listed.
I want to send a special thanks to my 48 Patrons contributing $364 per month. You rock! Because of them, I create my music, podcasts, videos, blogs with the peaceful assurance that I can continue being a full-time musician and podcaster and still get to eat. Thank you. You are awesome. You can be a patron for just $1, $5, $10, $100 or whatever YOU LIKE!
Special thanks to some of my newest Platinum Patrons: Benjamin, Troy and River who also hosts B-Movie Sunday on YouTube.
Slainte!
Marc Gunn, The Celtfather
January 6, 2016
SPECIAL NOTE ABOUT MARC GUNN'S NEWSLETTER
Marc Gunn is a rhythm and folk musician inspired by Celtic culture, science fiction, fantasy, and cats. He breathes new life into the autoharp, which continues to surprise musical veterans and fans a like for it's unique sound and spirited energy. It's Celtic music, the traditional and the twisted.
Find me at www.marcgunn.com. Read my blog and find my gigs.
Chat with me at Google, Facebook, Twitter, Instagram, and YouTube
#marcsmusings #celtfather
Please add "slainte@marcgunn.com" to your whitelist or email address book, so that you have no trouble receiving future issues!