Is it just me or does this year feel like it's starting off super slow?
I guess that's because I didn't start working until last week. And then almost immediately, Birmingham was hit with a "snow day". It's more like a snow dusting, but it was enough to close all of the schools.
The kids are home for day two. And of course, the week started with MLK Day. So that makes day three.
There's so much I need to do, but it's happening… slowly.
I played two successful Coffee with The Celtfather shows on Facebook Live though. The latest was uploaded to my YouTube channel yesterday. Those shows are happening on Tuesdays at 9 am in January… well, if the weather cooperates.
In the meantime…
I'm very happy with the latest Celtfather Music & Travel. The new episode is About the song "Close Your Eyes," aka the Demon Lullaby, and my Firefly filk of the song. Make sure you listen and subscribe to the podcast.
Give the episode a listen. What do you think of this format?
I feel like sharing "about a song" is a fun and relevant idea for a talk podcast of mine.
Is that something you enjoy listening to?
Spotify is my big project for 2018. I polled you last year and found well-over half of my Gunn Runners preferred streaming music to physical CDs. I will keep producing CDs while some of you enjoy them. But it's time for me to get with the times. That means Spotify playlists.
I compiled a Firefly Drinking Songs playlist. Please follow me and my playlists. I have over twenty albums. You can stream all of them as a subscriber!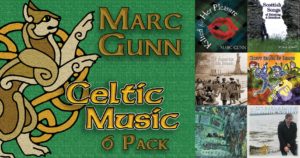 Of course, if you still prefer CDs for listening or just as a physical representation of your support for my music, well, then you can now buy my Celtic Music 6-Pack. This 6 CD collection features the last physical CDs of my Celtic albums. You'll save 50% off all six CDs!
Finally, I want to send out a very special thanks to my generous patrons in the Gunn Runners Club on Patreon. These awesome people kindly support my music.
With the music business changed. Streaming music is king. I can no longer rely on CD sales to make a living. For that reason, I turned to Patreon to support my music.
Here's how it works. You pledge a buck a or more every month. Your generosity allows me to keep creating new music. Plus, you get monthly music in the Pub Songs Podcast, fun adventures in Celfather Music & Travel, Behinds the Scenes look at the life of a musician, and Stories from the Road. Plus, every month, I'll send you a free song, video, or concert recording.
Please show your support for what you love. Join the Gunn Runners Club today!
I want to thank my newest Gunn Runners: Brian Morin, James Lawlor, Theodore Dykstra, Elizabeth Burkholder, Tarren Enn, Sarah Donner. A very special thanks to Laura May Sorkin, Jeremy Hendon, Jim Cope, Tom Smith, Scott & Anita Gorrell, Jason Denen, Eric Ray who increased their pledges.
Thank you so much for keeping up with all of my adventures here in my newsletter. I hope you enjoyed reading it. And if there's anything I can do to improve this newsletter, please let me know.
Slainte!
Marc Gunn, The Celtfather