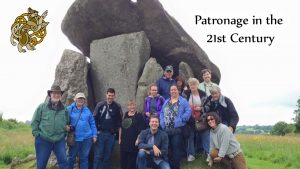 For the past 10 years or so, music industry professionals (not connected to the major labels) have predicted a major change in the distribution of music. iTunes kicked off that change by offering easy to download music. But it was subscription-based music that really sent shockwaves through the industry. Spotify changed everything.
This is great for music fans. You can listen to nearly every song in the world with one quick search. It's amazing! Spotify, iTunes, and YouTube are raking in millions from subscribers. They are even paying royalties to the musicians. Unfortunately for us indie musicians, we only earn fractions of pennies on the dollar. Much less than major label musicians.
When iTunes first kicked off, I made over $1000 per month from digital sales of my music. Now, it's less than half that. In a few years, it may be virtually non-existant.
It took far too long for me to accept that subscriptions were indeed the wave of the future. I finally understand, and thanks to Patreon, I also have a way to keep making a living as a musician–patronage.
Can you imagine what patronage was like in the 1700s when Mozart relied on it?
In those days, musicians would have only one patron. They were totally beholden to that individual. To some degree, it's not too different from the major labels signing an artist and owning their music. They have one "master". If the label says jump, you have to jump.
Patronage in the 21st century is much nicer. Instead of one patron, I have 70 (at present). Each contributes $1, $5, $25, $100 or whatever they want each and every month. I provide them with exclusive blogs, stories from the road podcasts, first look at videos, live performances, early releases of music, rough cuts, and whatever else I can think of each month. They get to be a part of my official Gunn Runners "fan club" and community. All of this for as little as a buck a month. That's a helluva deal!
For me, I get the luxury of creating whatever I want, whenever I want. Best of all, I'm earning an income as a musician, bringing you more music, entertainment and happiness.
Sure, it may take another 600 people before I can replace that $1000 per month in digital sales. But it also means that you who are passionate about me and who love my music get to be a part of something bigger. You are a big part in helping me create music. You guide and inspire me. You help me create new milestones to achieve and unlock more joy.
I may've been way too slow understanding patronage. But I am extremely excited about the direction it is taking me. I see *hope* in the future of my music. It gives me peace of mind…and purpose.
It also gives me fun ideas to promote my music, like this.
From now until the end of October (2016), anyone who signs up as a patron will get a free autographed copy of "Soul of a Harper", my very first solo CD under my name. If you're currently a patron and you up your subscription by even a buck, I'll send it to you as well. Stay a member as long or as short you like. The album is yours.
This offer is good while supplies last. This is my final printing of "Soul of a Harper". After this, I plan on it being digital-only. So get yours soon.
Become a patron at http://patreon.com/marcgunnmusic.