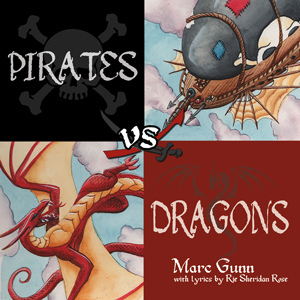 Day 77: Today I saw sights I recognized. My heart rose at the vision of the green hills of Alabama. I have never seen anything so beautiful in my life…well, except for Gwen playing with Kenzie in the backyard.
The Lady Jean is such a lovely little ship. The helmsman steered her around, and came to a halt beside the porch rail, the exact same spot from which I had been taken. I hurried off the boat as quickly as I could, before Murphy changed his mind.
Gus walked me off. I had already said my goodbyes to Jenny.
There was a book on the table—guess Gwen had been trying to keep herself distracted. It was a Steampunk novel by my friend Rie Sheridan Rose, The Marvelous Mechanical Man, from her Conn-Mann Chronicles series.
"Really?" Gus groaned, glaring at me in disgust as he picked up the book and stuck it in his pocket. "Stay away from Steampunk. Haven't you had enough airships?"
I had to admit he had a point.
I had a small chest on my shoulder, and the book in a sack slung across my back. They were heavy, so I set them down on the porch and ran down the stairs. The ship banked and turned, sailing off and then winking out-of-sight like it had never been there. It was a stunning sight, but still didn't stop me from running across the lawn to where Gwen stood shading her eyes as she stared where the airship had been.
I swung her up in a bear hug. I had never been so happy to see someone in my life. Kenzie came over to where we stood, lifting her arms for me to pick her up. It was the perfect ending to the whole mess.
"So that's where you snuck off to this weekend," Gwen chided with a smile.
"You don't know the half of it!" I replied.
Tonight, I would be taking my girls to dinner—and I would be paying with gold.
—
I've managed to sneak a bit of pencil stub from the ship's doctor, and a few scraps of paper from the cook. I'm recording my thoughts with them so I can reveal Black Jack Murphy's infamy when I finally return to civilization.
There's a universal truth about pirates. They hunt treasure, and they don't care who they have to rob to get it.
There's a universal truth about dragons. They hoard treasure, and they really don't like for people to try and take it.
I was kidnapped by the infamous air pirate Black Jack Murphy and his crew of the airship The Lady Jean. They wanted me to chronicle their dragon hunts. Little did Murphy know where my sympathies lie! So, this journal — and the resulting CD, coming soon from Mage Records "Pirates vs. Dragons" — tell the true stories of Pirates vs. Dragons. The CD combines rousing sea shanties about pirates being pirates with songs about the majesty of dragons, and the journal details the privations I suffered. There's a little something for both sides here–and I bet you find a new favorite or two.