Podcast: Play in new window | Download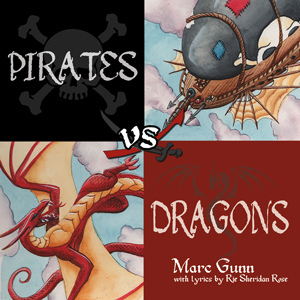 Day 68: I can't believe I've been captured by pirates for more than two months. It feels even longer. I wonder if time is passing the same way at home. There's a possibility that it isn't. Maybe Gwen doesn't even know that I've left…or at least thinks I'm running errands or something. That would be awesome!
I've been searching for Gus for days now. Every time I walk into a pub or shop it seems like I've always "just missed him." I'm beginning to get a little paranoid about that.
I've finished the last song for the album and turned copies over to Murphy. There's no reason for him to keep me here any longer, but he's made no mention of taking me home, either. I'm not sure what he is waiting for…though he did "promise" me a dragon hunt. Maybe this is the reason he hasn't said anything about me going home.
Daltry's death was just taken in stride, like murder was an everyday thing among these people. Maybe it is…I know nothing of this world.
And everyone seems perfectly okay with Murphy claiming the Lady Jean. He does have the deed, after all. He made sure to steal that too. We've moved all our things onto the ship, and he's talking about setting sail tomorrow. It is a fine ship, but I worry about where we might go next. Will Murphy live up to his end of the deal, or will he do the pirate thing and take me even further away from home?
Murphy sighted a gold dragon in the distance last night. That's the biggest breed, and Murphy's never faced one in battle. I have a feeling we will be changing that soon.
Everyone got roaring drunk last night after the dragon was seen—which was strange…but "pirates." The drinking led to some interesting party games…Jenny slipped away before "The Ballad of Jenny Malloy" became a true story. I'll admit that I drank a bit more than I should have, but the thought of facing that golden behemoth scared the hell out of me, and the mead dulled the terror…at least for a while.
—
I've managed to sneak a bit of pencil stub from the ship's doctor, and a few scraps of paper from the cook. I'm recording my thoughts with them so I can reveal Black Jack Murphy's infamy when I finally return to civilization.
There's a universal truth about pirates. They hunt treasure, and they don't care who they have to rob to get it.
There's a universal truth about dragons. They hoard treasure, and they really don't like for people to try and take it.
I was kidnapped by the infamous air pirate Black Jack Murphy and his crew of the airship The Lady Jean. They wanted me to chronicle their dragon hunts. Little did Murphy know where my sympathies lie! So, this journal — and the resulting CD, coming soon from Mage Records "Pirates vs. Dragons" — tell the true stories of Pirates vs. Dragons. The CD combines rousing sea shanties about pirates being pirates with songs about the majesty of dragons, and the journal details the privations I suffered. There's a little something for both sides here–and I bet you find a new favorite or two.