Podcast: Play in new window | Download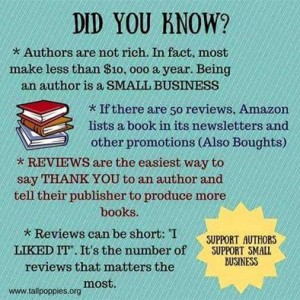 I found this infographic on Facebook. I listen to a lot of author marketing podcasts, so I already knew this. But seeing it written out, popped a question in my mind. Is this the same with CDs?
I have 20+ albums on Amazon. None have 50+ ratings as of writing this. The most-rated one currently is Don't Go Drinking With Hobbits. It has 36 reviews. I really want to get over 50 to see if this holds true with albums. I bet it does. Maybe not the extent of books, but it makes sense.
You see, Amazon is built around customer feedback. It's not just about sales. They use social proof as a means to highlight things that are important. So if anything gets a lot of reviews, then they are more likely to feature it, right?
Just need 14 reviews more for Don't Go Drinking With Hobbits on Amazon. Then the album will have 50+ reviews. Could this mean greater support for the album on Amazon? Will it top the charts faster? There's no telling. But I'd love your help and testing this idea out. More details at http://marcgunn.com//please-review-dont-go-drinking-with-hobbits-because/

Posted by Marc Gunn on Monday, April 11, 2016
Listen to Don't Go Drinking With Hobbits Right Now
I really want your help with this album. And it turns out there may be another reason Don't Go Drinking With Hobbits is my most-reviewed album. Because it is also one the few that I released for free on the Irish & Celtic Music Podcast. In show #128, you can listen to the entire album FOR FREE!
And no need to click on over there right now. I included the link in this blog. Just hit PLAY!
How Honest Should You Be?
Did you love the album? You may feel a little conflicted. Perhaps Don't Go Drinking With Hobbits is not your favorite album. That's okay. When it comes to reviews, I'm a big fan of honesty. I want you to rate my album. But I want you to be honest about it.
If you think it was lousy or unlistenable, give it one star. If you thought it was okay, give it three stars. If you love it and plan to listen over and over and over again… five starts.
In fact, I have a whole method of how to rate music to help you decide. You can listen to my rating system on the Pub Songs Podcast as well.
How much of a review should you write?
Once you decide on a rating, Amazon does want a review. But you don't have to write a 10-page high school book review. You can put as much or as little as you like. If you don't have a lot of time. Just keep it simple–"I love this CD!" That's all you need to do.
If you prefer giving a big evaluation, track-by-track, that's great too. It's not about how much though. Amazon just wants to know you care enough to write something, not how much you write.
Thank you for your time!
If you do decide to write a review, I want to thank you SO MUCH for taking your time to review my album. This is an experiment. Perhaps there will be no significant sales or result when the album is done, but perhaps the CD will sell better than ever, and I will make hundreds of new J.R.R. Tolkien, Hobbit and Lord of the Rings fans.
Whatever the case, I thank you for taking the time do something.
Oh! If you want a digital copy of the album and don't want to buy it from a third-party. You can get it for free as a Gold or Platinum Gunn Runner on Patreon. So not only will get you new music and bonus content, and of course, support my music career, but you can download the album for free. Just go to Patreon now.