Podcast: Play in new window | Download
Christmas is almost here. Originally, I wanted to share some Winter Pub Songs, but as I picked some songs, they were just some fun Christmas songs. If you enjoy the music, please share your love of Christmas with a link to pubsong.net.
What's your favorite Christmas song?
Post in the comments. Then subscribe to the podcast and mailing list at http://pubsong.net/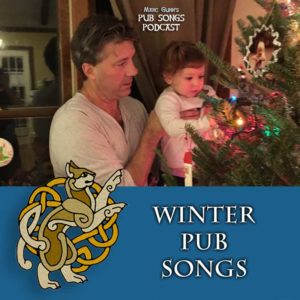 Who's Playing in the Pub Today?
0:03 "Christmas in the Shire" by Marc Gunn from Celtic Christmas Greetings
4:32 "Celtic Christmas Elf" by Marc Gunn from Celtic Christmas Greetings
7:24 "Mrs. Fogarty's Christmas Cake" by Carolina Ceili from Holiday Hooley
11:29 "Please Bring Firefly Back (for Christmas)" by Mikey Mason from Barbarian Jetpack
15:20 "Christchild Lullaby" by Chambless, Muse, & Miller from Nollaig Chridheil / Songs of the Christmas Season
19:35 "Let's Have a Celtic Christmas" by Marc Gunn from Celtic Christmas Greetings
26:57 "Essex Wassail" by Vicki Swan & Jonny Dyer from A Sound of Christmas Past
29:53 "Still, Still, Still" by The Gothard Sisters from Falling Snow
33:03 "Whiskey for Christmas" by Kyf Brewer from Together for Christmas
35:52 "Christmas Time in Texas" by Brobdingnagian Bards from Christmas in Brobdingnag
41:24 "Nollaig Shona Daoibh (feat. An Taisdeal)" by Marc Gunn from Single
Pub Talk
Merry Christmas my friends. I don't know if these songs quite came off as Winter Pub Songs like I planned. But this is another Christmas drinking songs show on the Pub Songs Podcast. I hope you enjoy it.
I want to send a Huge thanks to my New Patrons in the Gunn Runners Club: Jan DiMasi, Kimber Grey.
Listen to Celtic Christmas Music on Spotify!
Other Podcasts to check out:
The Pub Songs Podcast was produced by Marc Gunn. If you enjoyed this episode, please support the musicians who support this podcast, buy their CDs, then share the show. Special thanks to all of my patrons in the Gunn Runners Club. Would you like 5 of my MP3s for Free? Plus get regular updates of what's new. Subscribe to the podcast and newsletter at  www.pubsong.net.