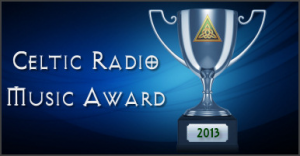 I am excited to announce that my performance of "Rising of the Moon" from Not Every Day Is St. Patrick's Day won in the annual Celtic Radio Music Awards. This year there were a total of 3,311 votes cast across all categories. When the voting ended on March 17, 2014 (St. Patrick's Day) "Rising of the Moon" captured 47.78% of the voting earned the title of 'Best of Roots Traditional' for 2013 and induction into the Celtic Radio Hall of Fame.
The Celtic Radio Music Award is a program sponsored by Highlander Radio to acknowledge and promote exceptional Celtic music across 6 categories of music. Nominations for this award are made throughout the year by listeners and members of Celtic Radio. This year we reviewed nearly 700 songs for this awards program. After a careful screening process, which is based upon listener nominations, ratings, requests, and other radio statistics; we select 3 songs in 6 categories for community voting. Categories for an award are Celtic Rock, Traditional, Jigs & Reels, Contemporary, Bagpipes and Roots Traditional.
This is the first award I've received for my solo music. My album Soul of a Harper won Best Album cover in the 2004-5 Austin Music Awards. The Brobdingnagian Bards won three music awards with the AMA as well.