Podcast: Play in new window | Download
St. Patrick's Day is just one week away and I have a TON of St. Patrick's Day news items to share with you before we all start celebrating. Before we do that, you can watch this video I recorded to promote tonight's Concert Window St Patrick's Day (at 8PM CST) show.
So what did you think? Facebook started Facebook Live which allows people to stream live "shows" to our various pages. I decided to use it to promote my concert and all my St. Patrick's Day events. You can subscribe to my Facebook page and the feed here. I'm also using it on my Celtic podcast page. I recorded several videos that are a ton of fun. You'll see my Star Wars figures and my dragon friend Smolder.
Upcoming Shows & Podcasts
I posted my first St. Patrick's Day concert that I recorded on YouTube. Go Watch!
You can see my St. Patrick's Day schedule in 5 Points in Birmingham, Alabama on my St. Patrick's Day music website.
I am releasing five episodes of the Irish & Celtic Music Podcast for St. Patrick's Day. I am hoping to top the iTunes Podcast Music charts. I want to hit #1 by St. Patrick's Day. Will you help? All you need to do is Rate the Podcast and maybe even post a comment.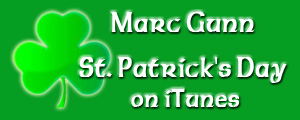 You can download a free album of my music through the album, Celtic Geek. It features one track from each of my 20 albums. Just subscribe to my mailing list. Hopefully, I'll do a special feature on all my albums.
St. Patrick's Day Internet Music Festival kinda failed to achieve expected results. But I already have a better plan for next year.
Reviewing Time!

Will you please help me by posting reviews of some my podcasts and music on iTunes (and maybe also Amazon). Here's my podcasts that need reviews:
Here's my top albums that could use your reviews. Click the album title to review on iTunes or the Amazon link for the Amazon site.
You're welcome to review all my other albums as well. But these are the top ones right now. Feel free to copy and paste reviews to Amazon.
Thanks again for all your support and I hope you have a Happy St. Patrick's Day!
—
If you enjoy this episode, then please post a review on iTunes or your favorite podcatcher. Subscribe to the show at www.celtfather.com where you can join my mailing list to download a free album of Celtic and comedy music. Special thanks to my Patrons. You can support my craft for as little as $1 per month. Become a Patron at www.marcgunn.com/patron. Then post feedback in the shownotes, use the hashtag #celtfather on social media, or email me marc@marcgunn.com