I've recorded over 20 solo albums, plus a couple dozen more through different bands and side projects. There's a ton of fun music to choose from. See all the song lyrics I've written here. Find my podcasts here. I give you permission to use my music in your non-commercial videos. If you want to use it for commercial reasons, just contact me.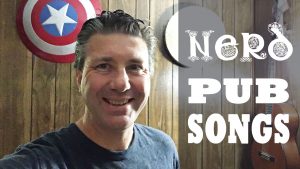 Get 5 Gifts from Me to You
I am more than happy to share with you four free digital gifts with no strings attached. If you like what you hear, then please subscribe to my mailing list to get even more free music.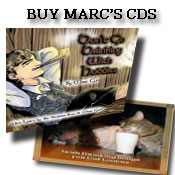 Where to Buy Music and Swag?
If I could give away all of my music for free, I would. Alas, I rely on your generosity and support of my music to keep making more for you. So please show your support. Buy CDs, MP3s, shirts, songbooks, shirts or pendants.
Or better yet, become a patron for as little as $1 per month. You will gain access to the Gunn Runners Club. See all the cool music you'll get!
Listen to Top Songs on Spotify
Wall of CDs
If you want to find out more about an individual CD, click an album cover on the Wall of CDs below.
Top 4 CDs of Marc Gunn
These are my top-selling CDs as of 2016.
The original CD that struck the imagination of cat lovers everywhere. It combines Irish drinking songs with my love of cats.
Marc Gunn joins forces with the quintessential Browncoat band, his good friends Bedlam Bards. Recorded live at science fiction conventions and shindigs, Firefly Drinking Songs presents music inspired by Firefly and Serenity–the perfect sound for hoisting a mug of mudder's milk!
There you are at the Sign of the Prancing Pony in Bree, when you hear the sounds of rollicking song inside. You push open the heavy oak door to see small hobbits dancing on the bar, spilling beer and singing at the top of their lungs. Little did you know that there are scores of great hobbit drinking songs. Marc Gunn, The Celtfather, met up with Daisy Brambleburr of Bindbale Wood (aka Rie Sheridan Rose) in Hobbiton to discuss and share the drinking songs of the hobbits. He came back with a plethora of great songs and tunes to share in his newest album.
The Celtfather fuses traditional Scottish songs with Celtic American fun while raising a flag for Scottish freedom! Marc Gunn compiles some of the greatest Scottish songs ever written into one incredible album that topped the World Music charts on iTunes when it was released on St. Andrew's Day. It' fun Celtic music for all the Scottish ex-patriots around the world.