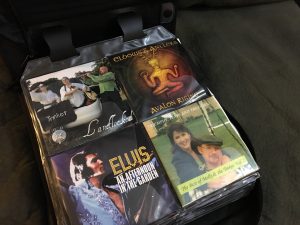 I am in the process of decluttering my office and my house. My wife has suggested since we got married, but the recent worry about moving was the final catalyst. That, and YouTube. For this reason, I've decided to unburden myself with years of CDs I've been sent as a podcaster.
Many are Celtic music CDs. But there's also a lot of CDs from Renaissance festival artists as well as CDs from pre-Celtic collection. Some will even be my own CDs. Most do NOT have cases, but they DO have inserts. Every week you can try to win a random pick of 4+ CDs by following the rules below.
The Rules
Watch my Friday Vlog on YouTube. Every Friday, I will talk about some topic in a Vlog (video blog). At the end of the video, I will announce the new contest and winner from the previous week.
Post a comment on the Friday Vlog after watching the video. Once you post a comment, you are entered to win a random collection of CDs.
Boost your chances to win by watching a selected video. I will share a music video by me for you to watch and comment on. Once you have done that, you will be entered to win a second time, plus MORE CDs.
Every Friday, I will randomly select the winner. The winner will be chosen from the list of commenters. I will attempt to contact them and I will announce their YouTube name in the latest video. But it will easier if you watch and contact me directly.
Winners have one week from the announcement to collect their reward and send me their mailing address so that I can send them their CDs. Otherwise, I will pick the second person on the list.
No international shipping. Due to the cost of mailing CDs, I will not cover any cost of shipping to international destinations. You are still willing to enter the contest, but please paypal me $7 to cover most of the cost if you choose to enter the contest.
That's it. If you have any questions, post a comment or email me.
Watch the Minimalism and Summer CD Giveaway Video