The Cat Came Back… The Cat's Perspective
Words Marc Gunn, music traditional, Feb 2, 2004
I was a crazy cat for many a year,
My years are advancing. Now I sleep in my chair.
But old Mr. Johnson still wants me to play
If I don't get active, he'll send me away.
I'm a yellow tabby, kinda flabby. And I'm coming home.
And if you don't like me, then leave me alone!
I'll eat when I'm hungry. I'll sleep when I'm tired.
And if you try to wake me, you'll wish you had died.
His neighbor ambushed me with shotgun and dynamite.
My cat senses warned me. So I put up a fight.
I clawed at his cigarette. It fell to the floor.
It lit the dynamite as I ran out the door.
KA-BOOM!
He gave me to a boy with a dollar and a note
To drown me in the river when we were afloat.
I saw the rope come towards me and let out a yowl.
The boat tipped on over. The poor boy was drowned.
GURGLE!
He gave me to a man going up in a balloon.
I clung to his head. I am no buffoon.
The man tried to free me, but then lost control.
I stole his parachute as he crashed 'gainst a knoll.
KER-SPLAT!
He took me to the mill where the meat was ground.
He left off the lights, so I wouldn't look around.
But I saw that food processor come closer to me,
I jumped to the floor. He tripped bloodily.
CRUNCH!
Mr. Johnson, Mr. Johnson, I know you hate me,
But I have nine lives and you haven't even three.
Blessed are the cat lovers. Blessed are all kitties
So love me or leave me alone for to sleep.
PURR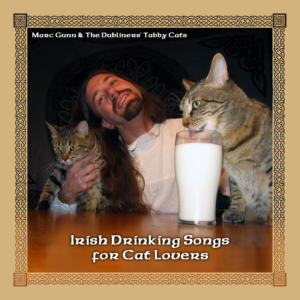 Background
This cat song melody is based on the Irish folk song, "The Moonshiner". The story is based on "The Cat Came Back", but sung from the cat's perspective about an old yellow Tabby cat that just wants to grow old in piece, but old Mr. Johnson seems to have it out for the poor kitty. Look for it on my Irish Drinking Songs for Cat Lovers CD.
You can listen and enjoy more cat songs on Spotify.